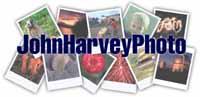 Aso Volcano to Oguni Village
Getting out town
---
As much fun as Kumamoto was (and David wanted to stay for a whole week!) we had plans to go see Aso Volcano. We rented Mark a car, collected everyone up, and drove out of Kumamoto. The volcano is about an hour out of town (and visible from town) and while the road was busy (it's single lane), once we arrived it wasn't too busy.

The weather in Kumamoto was a little overcast, but once we got to the volcano the fog roled in and we couldn't really see anything, except the large shopping area! We had lunch waiting for the weather to clear, and tried one of the local delicacies - horse meat. The person selling the meat (on skewers) made sure we understood this was horse meat - but Andrea pushed on and says its good!)


Once the weather got a little better we tried walking up to the volcano. There is a cable car (400 Yen each way) and you can drive up (1500 Yen per car), but the walking path looked good.

As we walked up, we noticed sirens going off. Cool. We kept on walking. We noticed there were a lot of cars coming down the hill, but not many coming up. When we we got further up, we found what all the fuss was about - the volcano was giving off a lot of gas and they had evacuated the peak. Reluctantly, we turned around and walked back down.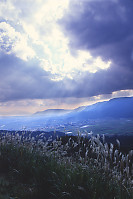 Our original goal was to stay in Kurokawa tonight, but it turns out 2 months isn't enough advanced noticed to book a room. The closest we could find was the next town over (or two) named Oguni Village. Oguni isn't written up in the guidebook but the web page looked good (and the rates were good) so we booked it.

The hotel is a 10 story building. The first story is parking. The second floor is the foyer. The third to eight floors are rooms. Ninth floor is the restaurant, and tenth floor is the bath. We booked two rooms, and we got the whole eight floor and great views.

Oguni is small town built on both side of the river. The town has plenty of hot springs and plumes of steam rising over various buildings. Most of the town seems to be set up to service tourists, from the little hotels, to the massive hotel across the river.

One of my favorite sites in town is a shed at the side of the road where hot water is pooled. This shed was covered in crystals from where the heated water has evaporated, leaving behind crystals.

We had a good evening (horse sashimi was served with dinner) and enjoyed the views from the top floor bath. The next morning we wandered around town a little and discovered a cute little foot spa. Relaxed, we got in the car and drove to Kurokawa.

---
Tags: Japan(10), hot spring(3), corrosion(3), place to stay(2), small town(2), volcanism(1)
People: Gabi(2), Andrea(1), David(1), Eric(1), John(1), Mark(1)
From: John Harvey Photo > Trips out of the Country > A Second Trip to Japan > Aso Volcano to Oguni Village

Last Modified Tuesday, June 9th, 2009 at 00:45:09 Edit
Copyright and Contact Information.