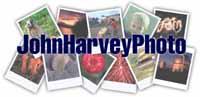 January 2021
36px;" align="middle" alt="Go to

Making the most of the days

---
Golden Ears Provincial Park
This is my first time ever visiting Golden Ears Provincial Park. This park is the closest large (>200 campsites) BC Park to Vancouver and it's busy in the summer - they often have to turn people away because the parking lots are full. Of course in early January it's pretty quite, but there were still cars there and lots of people were hiking. We didn't have a hike planned, I just wanted to see what the facilities looked like.

We stopped at South Beach. There is parking here for hundreds of cars and there are dozens of picnic tables to accomodate day trippers. There is a canoe rental place, but it was closed.


The kids are used to making the best of situation I present them so very quickly tried throwing stones and then figured out they could build a rock bridge out into the lake. Sadly, they didn't make it very far before they ran out of rocks.



We had lunch in the car (the kids got cold), used the outhouse (clean and tidy!) and then drove around the park to see what else was super easy. We drove up to the Gold Creek Parking next to the start of the North Beach trail, but the parking lot was almost full and it was raining pretty hard so we turned around to come home.


Pitt Addington Marsh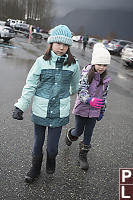 As I was driving home, I realized we were going to drive near to the Pitt Mash - one of my favorite places. We drove up and found the parking lot had lots of room.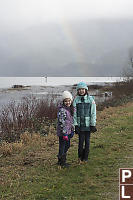 We walked as far as the bird watching tower because it provided cover from the rain.





The stormy weather made for some nice views, but the kids again got cold.




We got back in the car and drove home in time to pick up mom from work.


Seawall
The days aren't very long in January and if it's raining some of the day, you need to have a plan ready to use up what part of the day remains. The Vancouver Seawall is one of the premium destinations in Vancouver and we are luck to live close enough that we can just go for a walk on a moments notice.


We have a favourite route - walk down to Olympic Village on the seawall and then walk the return trip more inland where the route is a bit more direct. Along the way to Olympic Village there are a few nice stops and rock causeway to Habitat Island is a favorite. On really high tides, the rocks are surrounded by water, but most of the time they are well clear the of water.



The target is of course Earnest Ice Cream. Our kids favorite is cookies and cream and I think they think it worth the walk.


Sunrise on Canada Place

At this time of the year sunrise is quite late so setting up a morning timelapse for sunrise isn't getting up much earlier than normal. The weather is a wild card, but composition isn't easy either. Of course you hope for a dramatic sky, but this time of the year that is rare. If you don't try, you don't succeed so I drove out with my tripod and took a sequence.




When I first got out of the car I scared a coyote. Stanley Park has been having problems with Coyotes biting people so it was a bit of warning. Thankfully, I never saw the coyote again.


Queen Elizabeth Park
Again, trying to make the most of the day, we drove to QE Park for a little walk. QE park is one of the highest points in Vancouver and the leeward side has quite a bit ground that never gets sunlight in the winter. This lets frost and ice grow which the kids enjoy.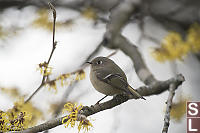 There is a tree on the other side of the rock quary which blooms very early in the season. Back in 2019 I saw the same species of bird
(Ruby Crowned Kinglet) in the same tree
. I think experienced birders get to the point they just know where to find certain species at certain times of the year so they can get exactly the kind of shot they want.

Walk at the UBC Endowment Lands
My Nikkor 28-70mm lens is slowly dying. I've dropped it (and me) a few times and had it repaired a few times, but it's time to retire it. Nikon had some large sales on so I decided to buy a replacement now 24-70mm lens with VR. Nikon is going through a transition now - my larger SLR format camera is being replaced with smaller "mirrorless" formats and with that, there is a new lens mount and new lenses. Lenses for my current camera are probably at the end of their life - 5 years from now, Nikon just isn't going to make them anymore. Buy them now, or it will be used examples in the future. I decided to go for a walk to see how it worked out.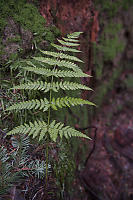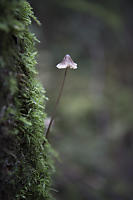 The lens did well. I tried to go with slow shutter speeds to make use of the VR and it did a pretty good job. It's certainly better than the lens it is replacing, even though it's a longer lens so it doesn't fit some of my favorite bags.

---
Tags: Pitt-Addington Marsh(3), ice cream(2), time lapse(2), Vancouver(2), boat(1), dock(1)
People: Claira(12), Nara(11), Helen(2)
From: John Harvey Photo > Blogs for 2023 to 2005 > January 2021

Last Modified Sunday, January 22nd, 2023 at 00:09:20 Edit
Copyright and Contact Information.