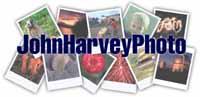 June 2019
And Summer Begins!

---
Inter tidal Walk at Stanley Park
Nara did an
intertidal exploration at Centennial Beach
back in 2016. Nara wasn't feeling well so Claira and I drove down to Stanley Park to take advantage of beach walk organized by Nature Vancouver to coincide with a very low tide. Parking was nutso, but we did get to the event on time.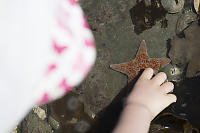 Claira Graduates Chinese Class Kindergarten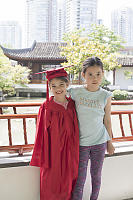 Fishing at Berry's Bait and Tackle
Happy Birthday Claira!
This year Claira wanted to have her birthday at the Play Palace in Kerisdale. We had it a few days early because the next weekend was a long weekend and hard to get everyone together.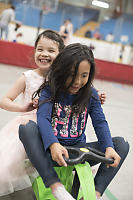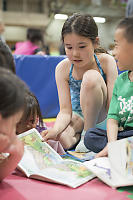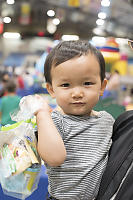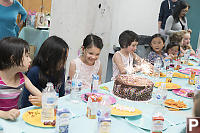 Overnight at Fort Langley
Last year, Jin visited Fort Langley and found out that overnight camping in the fort is an option. Fort Langley has 5 "oTENTic" semi-permanent tents where you bring a sleeping bag and food for an overnight stay but almost everything else is provided - BBQ, cutlery, washrooms and lights. Of course they are popular and you have to book them the day they become available. We failed to get reservations, but David was able to get two night and Jin got two nights. We were kindly invited to come out and join the party!


BBQ cooked food has some limits, but the kids love hot dogs. We didn't do too much planning, but there is a grocery story just outside the fort and you are free to come and go as you please.


Of course the kids are here for the campfire and the roasted marshmallows. There is one central fire pit that all the families share and there is campfire wood on site you pay for as you use. As soon as the kids saw fire, they wanted the ingredients for smores.


Kids eating smores makes for a fun time taking photos. David has an APS format camera that makes his 50mm closer to a 75 and he took some very nice portraits.


I only bring one camera to these kinds of things so I left mine on a tripod taking pictures of the fire pit during sunset. This can turn a bit tricky in post (for some reason, my camera does a poor job auto exposing dark blue skies consistency) but with enough time you get something acceptable.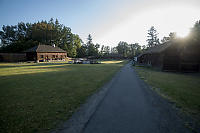 The next morning, you are still in the fort! During the day you rarely hear the trains but at night you find they are running just outside the walls. I was up early enough to see sunrise. The kids woke up not that much later.

The fort has a sample garden - the real for had a 2000 acre farm outside the walls. The fort also has a small collection of animals - goats, sheep, rabbits and chickens. In the morning the and the animals have each other and not much distraction.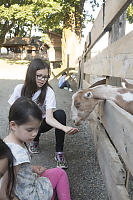 During the day you can buy bags of feed by donation. After hour that isn't there, but the kids find the grain that other kids dropped and the goats are happy to eat it.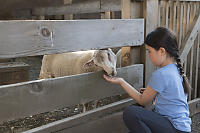 Considering it's a walled fort, you wouldn't expect much wildlife. We did find racoons living under one of the decks. A Northern Flicker parent and child stopped by one morning to eat bugs. The crows were pretty much constantly around looking for unattended food.



The kids played with each other most of the time which gives a little rest to the parents. Of course the kids get tired out and the behaviour degrades, but everyone had a good weekend. When the kids got home they had an afternoon nap - the first in probably 6 months. Thanks David for sharing your oTentnic with us and Jin for the idea!

---
Tags: intertidal(5), fire(5), Kerrisdale Play Palace(5), Stanley Park(4), fort(4), s'more(3)
People: Claira(11), Nara(6), Abby(3), Haley(3), David(3), Loren(3)

Last Modified Thursday, July 11th, 2019 at 22:40:07 Edit
Copyright and Contact Information.