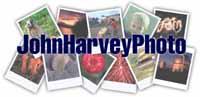 June 2020
Great weather. Now how to avoid people?

---
Walk at Iona Beach
The covid outbreak had flattened and were were told to avoid crowds, but that some normalcy could return to our lives. Being June, every day of good weather is a call to get outside so finding places to go without crowds was a bit of trick. We checked the tide table and decided to go for a walk at Iona Beach. The beach is basically a giant mud flat and very rarely do people actually go for walk out there.


Of course kids don't mind mud between there toes (and all over their clothes and hair) so it was a good time walking out looking for creatures in the mud.


Beaver Lake, Stanley Park
Stanely Park effectively closed to cars. You could still drive around if you were going to the Marina, military base or had a disability sticker, but traffic was a tiny sliver of what it normally would be in the summer. The kids got out their bikes and we went for a brief ride to Beaver Lake.


Happy Birthday Claira!
Nara's birthday in April was a virtual affair - other kids were on a facetime call, but we didn't get to see them in person. The rules had relaxed a little by June so with some heroic planning, it was possible to see other kids. Claira's actual birthday fell on a Friday so we had a family birthday cake on her actual day.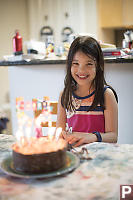 Helen had actually organized a part! Claira really likes Piñata's so we made one at home! Our last Piñata was built too hard and couldn't be broken open (we used cardboard and packing tape) so this one was built more to be broken - two layers of paper with glue (and a few staples) holding it together. Being paper on the outside, it readily took paint.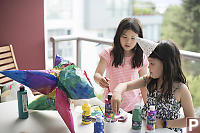 The actual day was quite a trick. We rented a shelter at Stanley Park from the City of Vancouver. Normally we might have used a community center (all closed) or the play area at Granville Island, but they weren't available. The City had a long questionnaire and they were quite serious about keeping kids apart and absolutely not cross family contact. All of the food was from a commercial kitchen (pizza delivered for lunch, cupcakes packed in groups of four). Each family got a box of items at the start of the party and the kids could do activities in parallel but not together.



Helen has been working on bubble solution for quite a while so we now had the right formula and tools for the kids to make giant bubbles. This was a socially distant appropriate behavior.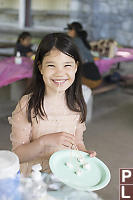 We tried doing a construction project with marshmallows and dry spaghetti. Turns out Claira liked the Marshmallows more than she liked winning.

And Claira's favorite part - breaking the Piñata! Each kids got their own break it stick and the candy was stored in bags (with a kids name on it) so that there wasn't a scramble to get candy once the paper ripped through. The paper did stand up pretty well - everyone got at least three hits before it started to break apart.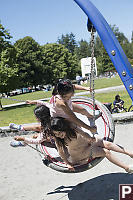 So how did we do on the Social Distancing? Fine until the kids decided to check out the playground. The city opened the playgrounds a few weeks earlier and perhaps the disc swings should have stayed closed because they don't really promote social distancing.


Everyone had a good time! Nobody got sick. Claira got a party where should could see at least a few of her friends. Good day.

---
Tags: Stanley Park(7), piñata(5), painting(2), playground(2), swing(2), invasive(2)
People: Claira(11), Nara(7)
From: John Harvey Photo > Blogs for 2022 to 2005 > June 2020

Last Modified Saturday, September 12th, 2020 at 23:54:46 Edit
Copyright and Contact Information.