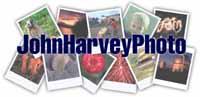 August 2016
The hot days of summer

---
BC Day at Terra Nova Adventure Playground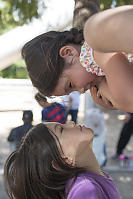 We spent the two weeks before BC Day on "Vacation" - camping in the Shuswap and a Trip to Victoria. We came home in time to meet up with friends at the Terra Nova Adventure Playground in Richmond. Two of Helen's Friends from highschool - Jin and Linda and their kids met up in the park for lunch and an afternoon of playing.


The playground is lots of fun, but we got a new game to play. There is a very slow piece of water in the park full of Green Frogs. These are an invasive species (introduces as farmed food, later escaped) so I don't feel too bad about the kids trying to touch them with reeds. The frogs are very patient - if a reed (or camera) approaches them, they seem to still. Only if you actually touch them with a reed do they actually jump. There were lots of frogs of various sizes for the kids to find and touch.


Norquay Playground
It's nice weather outside so you can't sit inside for long periods of time. We had a weekend day without plans so we went to Norquay for a picnic with friends, a play on the playground and some water park time. You know your kids have had a good summer when the prospect of running in the water park doesn't even get them excited.


This summer Claira has greatly improved her ability to climb rope climbers at the playground. In the spring she couldn't get past the first level of ropes and sometime over the summer she figured out how to climb and climb - now she gets to the top of most mountains.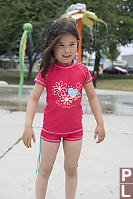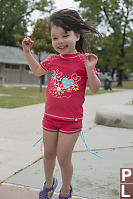 Milky Way in Stanley Park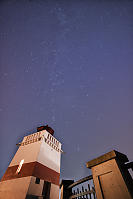 After taking photos of the Milky way in Victoria, I wanted to try again in the city. Really, you can only see the Milky Way in a dark sky, but there are ways (using HDR filters) to bring out the Milky Way in a light polluted city shot. The Perseid Meteor Shower was just getting started so if I saw a meteor too, that would be cool. Of course you can't see the Milky way if the Moon is up so I wound up waking up late (like 1am) after the moon had set and went out to see what I could see.
My Grandfathers 92 Birthday
My grandfather turned 92 this year. His birthday is in August which is a great time of the year on Vancouver Island. My uncle kindly offered to organize a picnic and a large collection of people soon arranged to join to which Philip happy 92nd.

My grandparents have four children, nine grandchildren and currently eight great grandchildren. We were short one for the picnic. Having a lush yard, of course the great grandchildren just want to run and play.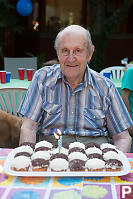 Of course this is a birthday party so sooner or later a cake has to come out. Of course the more mobile young ones come over to "help blow out the candles" and seem to be first in line for a cupcake. They have played this game before.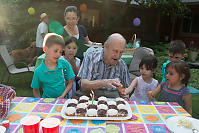 Having our bellies full, we gather for portraits. We are missing a few - Kayla and Chrissy are at work and Kiera had to go to bed early.


At these events I always seem a little silly - running around like crazy taking photos of people (like 445 photos in just under 3 hours - 2.7 photos a minute). There are that many opportunities where everyone gets together and even fewer have great light. Sorry I don't get to sit and chat with people.
A visit to Comox is more than just a BBQ. Before and after we stopped by the Grandparents house for an extended visit. My sister was also in town so all of the cousins were under the same roof for a period of time. They (the four of them) did a pretty good job playing a board game together.


Thanks Duncan and Deane for hosting the party - much appreciated!





---
Tags: Stanley Park(2), milky way(2), astrophotography(2), playground(2), Terra Nova Adventure Play Environment(2), amphibian(2)
People: Nara(12), Claira(9), James(8), Marcus(8), Philip(7), Edna(6)
From: John Harvey Photo > Blogs for 2021 to 2005 > August 2016

Last Modified Tuesday, November 1st, 2016 at 21:50:58 Edit
Copyright and Contact Information.