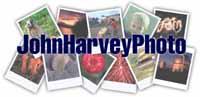 August 2017
More photos at night than during the day

---
Fireworks From Burrard Street Bridge
| | |
| --- | --- |
| | Vancouver isn't a cheap city to live in so if you do choose to live here, you really have to take advantage of the features the city provides. Every year there are fireworks and it's easy to become jaded to them after you have seen them 10 times or more. Thankfully we have kids which inspires you to revisit things they have never seen. We parked a little closer to the bridge (about 3 blocks closer) and walked on around 8:30. I setup my camera and took photos in the lead up to the fireworks. |
Tonight was Canada so there were lots of red and white combiations. White is often quite bright and hard to photograph with other colours.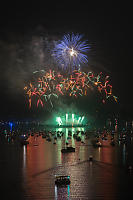 One of the features of the bridge location is photos that combine the fireworks with the city. This kind of shot is a bit of a trick because you want it to be long enough that you get the city lights but not so long that the fireworks burn out. If you can start the exposure with no fireworks up, you have a better chance of getting a good shot with city blended in.


The kids had a good time and didn't get stepped on in the crowds walking back to the car. Now that Claira is 5, I hope we can attend at least one fireworks event each year.


BioBlitz at Stanley Park
My first ever BioBlitz! The Stanley Park Ecological society organized a BioBlitz at Stanley park as part of Canada 150 this year. That had a number of activities happening all over the park. We found parking (an event worth celebrating all by itself and then visited two events. First, was a beach side show of what scuba divers were able to haul up.

The big (easy) items were the sea stars. The divers had pulled up some shallow stars that are easy to see and a blood star that isn't so easy to see at low tide.



In the other bins they had smaller items. They had a tiny green sea urchin and an even smaller nudibranch. Nice to see!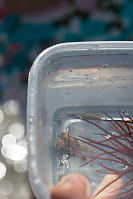 We returned to higher shore and joined a tour of woody plants. They pointed out all the tree species that lived close to the parking lot (total walking distance was probably 200 meters). I was quite impressed by what you can see in such a short distance. The guide does Biology work for a living (based out of Victoria) and his interest in biology was contagious. He talked about the bio's found in the soil growing under moss on tall Big Leaf maples. Apparently there are hundreds of species of tiny invertebrates living up there.

Our last session was Sunday morning - we went to a bird banding session for hummingbirds.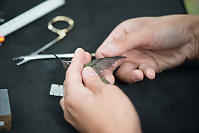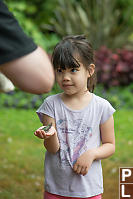 Uninterrupted Under the Cambie Street Bridge
I heard there was a movie playing under the Cambie street bridge around dusk. Friday night isn't a school night so we could keep the kids up late to see the show. We drove down and found free (as in you don't have to pay for it!) parking within a block of waterfront - I was amazed. The show is projected over the playground so the kids were really surprised we took them to a playground after dinner.
We were at the projection spot around 8pm and the show started at 9. There was some warm segments before the event started but they were subtle. The kids would be playing, see something and think the show was about to start. After a few minutes, they went back to playing.

At nine, with the sun set, the movie started. There isn't naration, but there is a cycle to the movie. Many of the images would be fish eye view looking up in a stream which really fits well with the projected on the underside of a bridge format.



There are 6 projectors involved so the images truely are imersive. I was sad it was over after half an hour, but the kids had questions that went on quite a bit longer. It was a great night!

Birding in Boundary Bay
I'm a member of Nature Vancouver and every once in a while you want to go out and learn something new. Nature organized a birding session at Boundary Bay to see the shore birds as the tide came in. Nature Vancouver birding events are binoculars/scope focused - they are often using 10 to 40 power instruments (the equivalent of 800mm to 3200mm lenses on a 35mm camera). The binocular people are keen on identifying the birds, but getting a "photogenic" situation is just a nice to have.

Today there was a flock of about 250 birds. The vast majority (all but two) were black bellied plovers in various stages of molt. The two exceptions were a Short Billed Dowitcher (which I can't tell apart from a long billed, but people who know more than me said it was a short) and a barred tailed godwit. The godwit is identified by the multi-coloured very long bill and the colour of the underparts in flight.



Looking at 250 birds and finding the one or two that doesn't match is a skill I don't really have, but I need to learn.


The Milky Way from Whytecliff Park
Helen works every seventh weekend so those weekends, I'm single dad'ing it. It's hard to take photos and parent at the same time so sometimes you have to get creative. On Friday night, after the moon set, I drove out to Whytecliff park to see the Milky Way.


Since it is dark dark, it's easy to do the exposure. My camera (a Nikon D800) is most senstive at 800 ISO - turn it any higher and you just get amplifier noise. My wide angle lense wide open if f2.8. 30 seconds is the longest I can set the exposure to. I hold down the button (which works for 100 exposures) and shoot away. I wanted to be home by midnight so I couldn't capture for that long.

I really like the airplanes taking off from the YVR in Richmond. The sailboat ancorched close by is funny with how far it swings around.

PNE with the Kids
Helen Works every seventh weekend. On Sunday, I decided to take the kids to the PNE for their first visit. The kids like animals so our first destination was the animal barns. They had a large area dedicated to being a farm in BC. Each kid got a smock and a bucket. They then went stage to stage collecting a mock up for a product made in BC - milk, eggs, salmon and apples and more. There was a bit of play, but they ultimately put their items into bins at a farmers market and got a coupon for completing. It really is propaganda (fish farming was quite a surprise for me) but the kids loved it.



My goal for going early was to try and skip the lines. We went over to the pony rides and got in line. A ticket was $7 a kid and the ride lasted about 5 minutes. This was their first pony ride and they clearly want to do it some more.



The PNE had an exhibit this year called Toytopia. A lot of was around retro toys, but there was a large "back yard" area where kids could make forts using PVC pipe, wooden joining blocks and sheets of cloth. The kids really liked this area - they probably played here for an hour. The forts could be extended out or up, but the connections weren't strong enough to really scale well. Clara added a "porch" on the front. New kids were always coming and going, poking into existing forts and then trying their own had it building. The fake grass floor made it a lot of fun.

Another popular location was a large scale Light Bright wall. My sister had a light bright as a kid and we did build a few of the pre-marked images. This model was a bit more flexible - you could move the pegs around and it didn't leave holes. The display area is smaller than the old light brights so it was harder to build a large image.


For a lot of people, the PNE is all about the food stalls. There are a ton of food stalls - mini donuts and corn dogs seemed especially popular. The kids found an ice cream vendor where you could pick your own topings. There is only one sized cup which was of course more ice cream they could eat. The kids favorite toppings were marshmallows, chocolate chips and sprinkles.

We went to a couple of shows.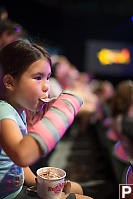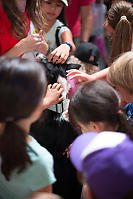 Lantern Procession Around Trout Lake
Yes, there used to be an amazing summer party at Trout Lake put on by the Public Dreams Society that had lanterns. The Public Dreams Society closed down around 2013/2014. This year the Trouth Lake Community Centre put on a Lantern Procession.
My Mom was in town and the kids were extra worn out so it was Helen and I without kids for the night. We arrived a little early and walked around the lake. They were still setting up some locations with lights and performers.



The actual procession was pretty thick but not especially well lit. Lot of kids had hand made lanterns but they weren't very bright.


Some people had elaborate lanterns that stood out in the crowd. The procession was going pretty fast so it was hard to photograph and keep up. As the procession got to the well lit station we gave up trying and keep up and let it go. Overall, lots of fun!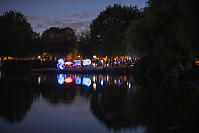 ---
Tags: fireworks(10), performance(8), sunset(7), bridge(7), underneath(7), Stanley Park(6)
People: Claira(12), Nara(8)
From: John Harvey Photo > Blogs for 2020 to 2005 > August 2017

Last Modified Sunday, September 3rd, 2017 at 18:30:21 Edit
Copyright and Contact Information.