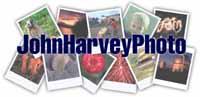 August 2020
And some clever quip...
---
Jessica and Shelton Get Married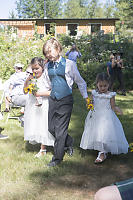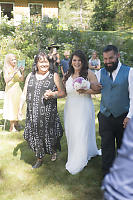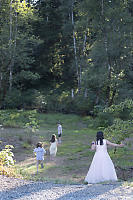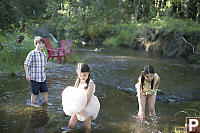 Seeing Family in Surrey
My sister lives in in Surrey and the summer is a great time to go out and visit. Covid is in what turns out to be a low so we can meet up, but we want to still want to maintain space between people and keep the number of people to a minimum. I did a bit of research and found Colebrook park. It has a one way trail network that helps to keep visitors separated while you walk around.


The kids were happy to be outside and basically just started running. I was hoping for a photo for Grandma who we weren't visiting nearly as much as we once did. The kids were just barely cooperative.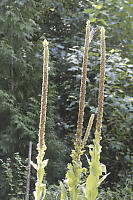 The park itself is quite nice - a lot of nice forest and birds flying though. We wound up doing the loop twice because the kids were done in less than half an hour and we needed the space.


After the walk, we decided to go to Cresent beach for take out. While there is a lot of space here, the sea wall trail was more crowded than I had hoped for. The tide was out so we went for a walk in the shallow water and mud.


We saw lots of Lugworm eggs in the shallow water which the kids have seen on
previous subtidal walks
out in the eel grass around boundary bay.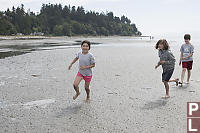 On the Island at the end of the Summer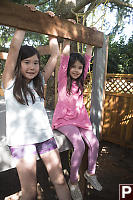 My mother kindly offered to take the kids for the last week or two of summer. We setup our schedule to reduce how many kids the kids saw to try and shrink our bubble and then took the trip over to the island.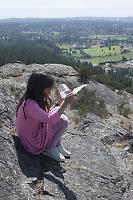 Claira got it in her head that she wanted a butterfly in a jar. I've seen some beautiful butterflies at the top of Mount Douglas before so we went there to try and get one. The only thing we found were European Skippers (which I don't mind so much trapping in a jar) so Claira was a little happy. I've seen kids with large butterfly nets and I really don't understand the boundaries of capturing wildlife, even if it's just an insect.
McMinn Park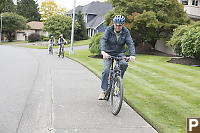 My kids really enjoy time at the local playground. McMinn park is a short bike ride away from my parents house and it's been upgrade with a good zip line and a disk swing. My dad has been collecting used kids bikes from consignment sporting goods stores so we seem to have enough bikes that everyone can petal down.


The kids get a good play, but it's a different kind of play than what they get at school. In school they play games like grounders or "man hunt". Two kids aren't enough to play these kids of games and my kids won't talk to other kids on the playground to try and get a game going.



Good play in, the kids were tired enough for a portrait and then a ride home.


Outerbridge Park
Outerbridge park is a small park very close to my parents home. I used to be private property by the owner of the property gave it to the city at the end of her life and it's a small park/garden now. It used to be her private garden and still has many invasive or non-native plants, but that doesn't stop endemic (and invasive) wildlife from calling it home.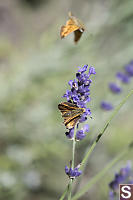 This year I saw a surprising number of Common Wall Lizards. These are invasive and they appear to growing in numbers. There were a variety of size so clearly they are reproducing.

There are lots of other things to see in the park - birds, insects and sometimes frogs.



I enjoy the small breaks to go to the park and use my natural brain.

---
Tags: McMinn Park(4), playground(4), wedding(3), Boundary Bay(3), Outerbridge Park(3), apple(2)
People: Claira(11), Nara(9), James(6), Marcus(6), Lexi May(3), Jessica(3)
From: John Harvey Photo > Blogs for 2022 to 2005 > August 2020

Last Modified Saturday, November 7th, 2020 at 23:24:11 Edit
Copyright and Contact Information.