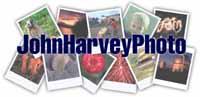 September 2017
And some clever quip...
---
Birding at Reifel Bird Sanctuary
Nature Vancouver organizes walks and lectures in Vancouver. On this Sunday morning, they organized a walk at Reifel Bird Sanctuary out in Ladner. The walk started when they open at 9am. I arrived a few minutes early (it's about a 45 minute drive from where I live) and was surprised to see a line up of cars at the gate. The manager at the sanctuary was unlocking the gate, but I could tell it was going to be a busy day.


Kids like the Sanctuary because of the endless streams of mallards looking for bird food. Grown ups like it because interesting birds show up to rest there as they continue their migration to places much south of here. At this time of the year, Yellowlegs (small birds on unreasonably long legs) were common in the ponds.



There are resident birds that are here most of the year. Peregrine falcons and Northern Harriers are common predators year round here. When we walked out to the ponds, they were surprisingly quiet until we saw Peregrine flying quickly by, hunting it's next meal. Small shore birds were wary.


The birding target of the day was Stilt Sandpiper that normally doesn't show up here. Normally Stilt Sandpipers migrate south on the other side of the rockies, but somehow one had been mixed up in the wrong flock and came down the pacific side. When all the birds are sleeping, it's tricky to spot but once they start feeding, it's easier to see.

We started our walk shortly after 9am and were done before noon. It was a good day!


Face Paint!
Claira has Gymnastics on Saturdays around lunch time. Nara broke her arm in the summer so she can't do gymnastics this fall. While Claira is in class, Nara and I have been going out on little activities. So far, we are two for two where the activity included face paint.



After Chinese class, we sometimes go out for a treat. On ice-cream place we like in Chinatown stopped opening in the evening so we picked a new place - Soft Peaks in Gastown:


JS Harusame & JDS Kashima Visit
The big military ports in BC are on the Island so we don't often see militiary ships in the harbour. Two Japanese training ships are doing a world tour and stopped in Vancouver. They organized an open house where the public could step aboard and take a look. It was a rainy day, but we decided to check it out.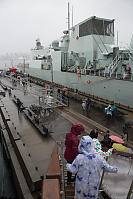 Renfrew Ravine Moon Festival
We have been to the Renfrew Ravine Moon Festival twice before - once in
2015
and once in
2013
. As the kids get older, it's easier - staying up a little late isn't such as big deal and the excitement of carrying a lantern is larger than the fear of being out in the woods at night (with large crowds). This year we skipped the procession and arrived just as things were getting set up and the crowds were a little lighter.
The Lanterns in the forest are always fun to explore - some are the same from previous years, others are new and novel.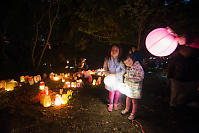 Lanterns very in scale from coloured jars with tea lights up to large instalation pieces.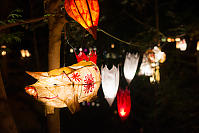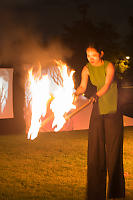 This year we could stay later for the performance after the lanterns. We got a spot on the rope line to the left of the show and the kids sat on my shoes rather than the wet grass. The performance was a story using shadow puppet style projection and live actors to tell a store about polution and inevitably, a fire. The show was done with a reasonable sized cast and lots of action to keep the kids into it.
---
Tags: Renfrew Ravine Moon Festival(11), Reifel Bird Sanctuary(7), lantern(6), performance(6), military(5), public tour(4)
People: Nara(6), Claira(4)
From: John Harvey Photo > Blogs for 2020 to 2005 > September 2017

Last Modified Monday, October 2nd, 2017 at 23:28:17 Edit
Copyright and Contact Information.