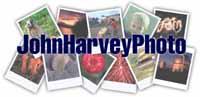 October 2017

The days are getting shorter, but there is no shortage of things to see

---
Four Arts At the Dr. Sun Yat-Sen Garden
The Dr. Sun Yat-Sen Garden does a number of seasonal events such as Chinese New Years and a fall harvest event. This year, they opened the garden at night and focused on the four classical Chinese arts. We went with Jin and Jesse's family and our kids focused on lanterns and getting wet in the rain.
First time I've seen it, the garden sold floating lanterns. They had a small candle inside and you folded the petals of the flower like shape to make a boat. Launching the boats was tricky because of the slippery rocks. The kids thought it was pretty cool.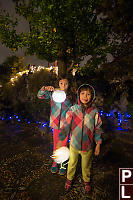 I tried to take some portraits. The kids really liked silly faces.
While the kids watched the musical performance I tried to take some photos of the garden. It was raining hard but the garden has a covered walkway so it's not impossible to take photos without getting your camera wet. I was surprised to see so much rain coming off the drip tiles.
Victoria For Thanksgiving
Nara broke her arm at bike camp this summer so she hasn't been allowed to bike until it healed well. Today was the first day we let here bike. Grandpa maintains a collection of kids bikes and we went for a ride along lochside trail.



When I lived in Victoria, I went out to East Sooke Park a few times. We always went to the West side where the mine was. After reading some reviews online, I decided to go for a walk at Aylard Farm on the eastern side of the park. There is a large parking lot (which has been expanded twice over the years) and wide trails leaving in a few directions. We decided to go down to the beach.


The beach is a mix of fine sand and rocks. Near the water line and hiding in the rocks were tide pools with sea anemones! A few anemones were in the sand, but most liked to be shaddy pools around the rocks.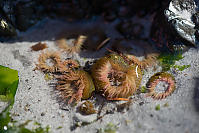 Just down the beach was a flock of birds resting on the rocks. Among the seagulls were 5 Black Oyster catchers with very bright bills. Normally there bright orange bills are contrast with their black bodies, but with the sun directly behind them their bills basically glowed.



Alternating between fishing and cleaning themselves on the rocks were a pair of river otters. They were productive - it only took them a minute to come up with a decent sized fish to eat. They pulled up some sort of small eel and there was no mercy - bites taken while the eel was still wriggling around.


We continued walking around the point (we took the ocean side route) and got to the petroglyphs on the rocks overlooking the ocean. The sign says it was likely a profile picture of a seal, but there is always some interpretation.



It was getting closer to lunch time so we packed up and drove home. Claira was home with Mom completing her Chinese homework so we swapped kids and I took Claira out for a walk. Claira wanted her scoot bike even though she is good with a pedal bike now. We rolled around Outerbirdge garden. Claira found a caterpillar.




There are some traditions the kids really enjoy. Going to a farm to pick pumpkins is a favorite, even though they have fall and hit themselves on the last two trips. This time we picked a different farm (no tractor ride, better parking) so we could just walk out and get pumpkins before lunch time.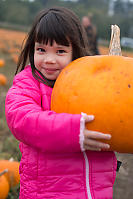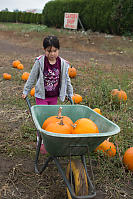 New Camera
I ordered a new D850 shortly after it came out - not early enough to get an early model, but early enough. Saturday morning, I got the new camera. Saturday afternoon, I went for a walk in Stanley Park while the kids were in Chinese class.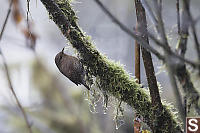 Halloween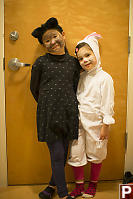 The kids know Halloween is coming weeks before it happens. Their school puts on a fundraising event called the Halloween Howl where the kids go in costumes and play games for tickets which they can then redeem for prizes. The whole thing is run by volunteers for fun and I hope it raises some money for whatever project the PAC has planned for this year. This year, the kids picked their costumes (bunny and black cat) and we got the some things to help.

When I was a kid, I don't remember ever getting facepaint. Today facepaint is pretty much required to make a good costume. The kids were happy with their outfits and we went out to play! The kids spent most of their stamps on bouncy castle time which yields no tickets so we had to buy a second stamp card. They found a few things they liked - mostly throwing games.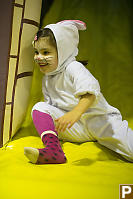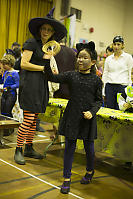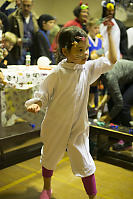 Their tickets became stickers and glow sticks and the kids were happy. We also tried the haunted house (bailed early) and they decided the scary story book reading in the library was a bad idea because it would give them nightmares. We were home by 9:30 and other than a twisted ankle on the way to the car, everyone had a good time.


We live in a condo tower and which means there are limited (but a few) options to trick-or-treat on Halloween night in our neighborhood. My hair stylist suggested we visit hers (Mount Pleasant) and we have for the last three years. It's a crazy busy neighborhood on Halloween - houses are decorated, performance art happens in some yards and fireworks are pretty much continuously going off. Our kids claim to be brave, but by the end of the night, anything that went bump made them run.



They had a really good time!

---
Tags: Dr. Sun Yat-Sen Classical Chinese Garden(7), night(7), Stanley Park(5), Halloween(5), costume(5), lantern(4)
People: Claira(11), Nara(9), Abby(3), Haley(3), Janet(2), Lloyd(1)
From: John Harvey Photo > Blogs for 2023 to 2005 > October 2017

Last Modified Sunday, January 29th, 2023 at 21:03:28 Edit
Copyright and Contact Information.