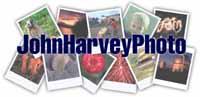 Okinawa
25% of the Island is American Military Base

---
We travel to Hong Kong pretty much every year to visit family. We live in Vancouver so a two hour flight from Vancouver gets you a lot of places there are still pretty similar to Vancouver. A two hour flight from Hong Kong opens up many destinations that are nothing like Vancouver (or Hong Kong). This year we decided to visit Okinawa for a week!


Our plan was basically broken up into two parts - three days at a resort closer to the big city and then 4 days in a vacation rental further from the big city. We took an 11am flight from Hong Kong and by the time we landed, got our things and got our rental car, it was nearly four pm. It was slow traffic for more than an hour until the last few minutes to the resort. We went to the buffet restaurant at the resort (coupon combo!) and got the kids to bed.
The next morning we woke up an surveyed our surroundings. The resort is a destination for weddings - there are up to seven weddings a day here. There are two one site beach front churches and lots of grounds for an outdoor wedding. There is some beach and some birds around.



The weather isn't excellent so we decided to take advantage of the hotel pool. It's big and has very strict rules about covering up tattoo's. Being a resort, there is a full time staff to give you towels and keep things tidy.



Our Hotel is close to Cape Zanpa - a park and lighthouse at the edge of the island. It's always windy and there is a never ending train of waves crashing into the rocks.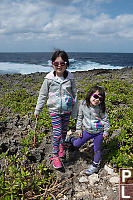 Helen of course wanted to try the local shopping. The kids and I can't take hours of shopping, so we tried to break it up with trips to the playground.




Mark arrived on a Thursday afternoon so we drove into Naha to for lunch and a bit of shopping before we went to the airport. Naha has a "shopping street" - Kokusai Dori where you can find souvenirs and fancy shoe stores. We found a restaurant catering to Americans (the kids wanted hot dogs) which was something like a BBQ joint.




We picked up Mark and took the expressway up to Nago where we would spend the next few days.

Okinawa Churaumi Aquarium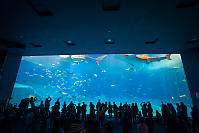 Okinawa Churaumi Aquarium is one of the largest in the world. It has several whale sharks in an enormous tank. It's clearly the pride of Okinawa - there signs giving driving directions from an hour away. It's hard to image visiting Okinawa without trying to get a visit in.
The Aquarium has several large halls, each with different exhibits. You start in an area covering the reefs and fish that live in the Okinawa area. These exhibits are really well maintained with large beautiful fish. Even though these tanks aren't are star attraction, serious money has been spent making large, representative scenes.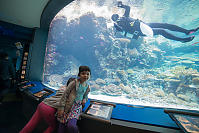 The mega tank is the star of the show. The whale sharks are joined by other very large fish (rays, sharks and others). The massive front window gives you an unlimited view, but there is a restaurant at the side that gives you a "lunch with fish" view.


Nago Castle Park
Helen wasn't feeling that well so we decided to spend a day close to home. There is a good sized playground at the on the ground where the Nago Castle once stood. Not a lot of parking, but a decent number of kids out to play.



Shaved ice is something I associate with tropical destinations so I took the kids out for shaved ice in Nago. Of course the pile of shaved ice was bigger than their heads (kids sizes aren't universal in Japan) but the kids tried valiantly to eat it all.




I have a bit of a problem when it comes to dinners. Mark and Helen are both foodies and they had a list of cuisines and restaurants like I have a list of experiences and beaches. When we go to dinner, their cameras are out taking photos of nice food. All of us taking photos makes us look like crazy tourists. In Japan this might be okay - I once wondered if it was okay to take a photo of the food and looked up to see every other couple in the restaurant doing the same thing. That said, every person and at every seat is a bit much. For dinner, you get Helen's photos.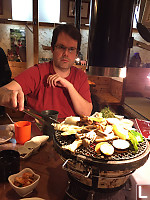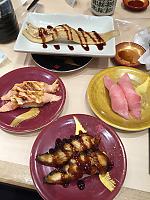 Another evening, we went out to conveyer belt sushi. We actually had to go to a few - the earlier ones had huge lineups and we didn't have an hour to wait. The place we finally were seated in was a little higher scale but not very traditional. Putting brown sauce on grilled meat is not what sushi was originally about.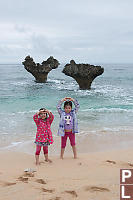 After we spent one day at the Aquarium, I wanted to spend another day poking around the smaller islands connected by long bridges. Somehow I picked these two hearts on the far side of an island as the "farthest point" where we drove to first and then made our way back. This was actually a pretty busy tourist destination - multiple parking lots charged different rates and offered different services. We stayed at the cheapest parking lot that also had a hose for cleaning the sand off your shoes.



As we were driving around the island back to the bridge I noticed a predator on a tree at the side of the road. Parking wasn't great so we wound up getting out of the van closer than the bird liked. It was still nice to see bird other than a city bird.


Our next stop was Kouri beach on Kouri Island. This is a small island with the longest bridge in Okinawa - the Kouri bridge. The water was nice enough, but not many people were going in for a full swim. Being Canadian, our kids thought the water was fine.



In the parking lot there was a small restaurant serving more traditional Japanese food - mostly grilled items and soup. Having a beer next to a beach is a great experience.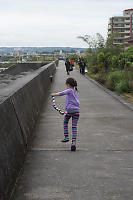 I kept hoping for a great sunset from the balcony of our place and the weather never really cooperated. I spent so much time out on the deck hoping to get a good shot, I didn't get a photo at all. Nara and I did got for a walk on the sea wall and spotted some local wildlife.
---
Tags: Japan(26), beach(7), playground(6), aquarium(6), pool(3), swimming(3)
People: Claira(9), Nara(6)
From: John Harvey Photo > Okinawa
From: John Harvey Photo > Trips out of the Country > Okinawa

Last Modified Tuesday, June 12th, 2018 at 23:00:25 Edit
Copyright and Contact Information.