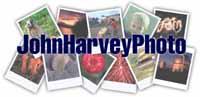 Ten Mile Lake
Running away from the rain

---
Previous
:
Prince Rupert
We knew it rained a lot in Prince Rupert and we brought wet ware to put up with it. That said, we read the weather report and a storm was coming and it wasn't just going to be wet on the Coast, the water was going to go inland hundreds of km. Our way back when plan for after the Prince Rupert was to visit the Nass Valley North of Prince Rupert (Hot Springs, cool bridges, hiking in a lava covered valley and some really interesting native communities), but with COVID, all of those attractions were closed. We decided to spend a day back at Lakelse and then drive back to the dry interior plateau.
Kleanza Creek Provincial

It feels funny to stop just a few minutes after leaving your campsite, but I knew there was a lot of driving today so I wanted to get at least a little hiking in. Kleanza Creek Provincial Park has a nice hike to a box canyon and a pretty lively small campground. The camp operator had a small food truck.
The trail was almost wheelchair accessible and wasn't too long to get to the canyon. It was raining a little so we didn't want to go out onto the rocks to take a real look.


The plants in park were quite nice. Any time I see Maidenhair fern, I'm a happy camper. Finding an Orchid was a pleasant surprise. I found an example of Pipsissewa just begging to have it's photo taken.



I usually think of Fungus as a fall thing, but Fungus was growing here. A few examples:



And we drove East. I was quite sad to be missing the Nass Valley and I knew that the Kispiox Totem poles were also closed because of COVID. I was quite surprised to find that 'Ksan was open in a limited fashion so we stopped in. 'Ksan is a museum with has a number of big houses, each telling a story of a time period. Because of COVID the houses were closed, but the site, gift shop and small museum in the main building were still open.



The houses are quite impressive and a bit of rain really makes the art pop out.



We poked around, but had to get back on the road. As we left, we found out that Kitwanga (perhaps 45 minutes behind us) was also open. Oh, well - next trip.

Our destination for the night was Beaumont Provincial Park - roughly 4 hours away. We stopped for a late lunch (and a bookstore!) in Smithers and then drove a few more hours on to Beaumont Provincial Park. We didn't have reservations, but being Thursday night we weren't worried. Our nightly camping fee was $20. We arrived in time for one last dip in the lake, dinner and then bedtime.



Speaking to the Camp Operator, Beaumont is basically a poor man's cabin for many families. Dad drives the RV up mid week and leaves it parked for two weeks. Dad goes back to work while the wife and kids spend two weekends and a mid week at the lake.


Back to back driving wasn't really the plan, but it was Friday night and we wanted to make more progress south. Although we had reservations at Lac le Hache (5 hours), we decided to try for 10 Mile Lake (about 3 hours). Without reservation we were going for a first come, first serve spot and we were quite lucky to get one as there were only three spots available, on night only that day. Of course the kids wanted to be on bikes and got to the lake for a swim.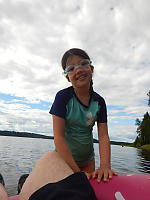 The lake was decently warm and had a nice beach. We found that a single floaty was enough and the lake was shallow enough that the kids had lots of places to play.



I was quite enamored with Orange Hawkweed. This flower is everywhere in this part of the province and it turns out to be a noxious invasive. The flowers open over the course of the day and close again the evening making an ever changing palette. It grew between almost all of the campsites.


I got out the big lens and tried a little birding.


My goal for this trip was to see a Loon and I had seen several, but they were always in some small pond next to the highway. This was the first time I saw a loon close to our side of the lake. One more bird checked off.


Quesnel Farmers Market
Traveling is funny - in Vancouver we like to go to markets, but we might only go once every few weeks. When traveling, we really try to line them up because they are a great way to see a bit more about an area. The Quesnel farmers market had some nice treats and fresh veggies, but we also met a photographer showing his work and had a good conversation about local wildlife. We had a good time!




And we continued south. Our plan was to stop just outside of Cache Creek at a Willow Springs RV, about 3 hours down the road.


Next
---
Tags: lake(3), swimming(3), floaty(3), market(2), canned(1), produce(1)
People: Claira(7), Nara(5), Helen(1)
From: John Harvey Photo > John's Overnight Page > Prince Rupert Road Trip > Ten Mile Lake
From: John Harvey Photo > John's Overnight Page > Ten Mile Lake

Last Modified Friday, December 25th, 2020 at 22:01:06 Edit
Copyright and Contact Information.