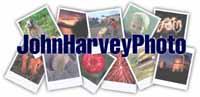 February 2009
Illuminate Yaletown

---
In Japan, this would be called a "light up". This is a new event for Vancouver - the business association for Yaletown organized this event and I think it's part of a trend of neighborhood events we are seeing across Vancouver. Last year Davie Street and 4th Ave both had events that I had never seen before.


People twirling fire on the other hand is a long running tradition in this city. The
Parade of Lost Souls
is an excelent place to see fire shows so I shouldn't have been surprised to see fire here.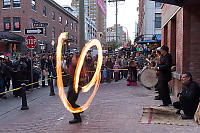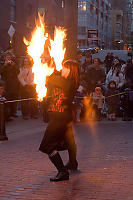 Unlike the
Parade of Lost Souls
where the audience is hundreds of people held back by fences, here the event was much more intimate - the audience was held back by just a bit of ribbon. I think the performers enjoyed the proximity because they sometimes got within hair singeing distance of awed children.
Being put on the by business association, of course there was lots of business tie in's. I really liked the colour pannel display, but I wonder if the shiny white Mercedes parked in front was just a coinicdence. (Yaletown did close the streets to traffic, but they didn't clear the parked cars). The Mini dealer in Yaletown did a good job - they lit up their shop (which was open) and put on a concert inside. I think they really got it.


I was impressed with the ice sculptures. Generally each was tied to a restaurant. Some were just sculptures outside, others were more crowd drawing. My favorite was a giant pineapple where fruit juice was poured through. The kids seemed to get a kick out getting a drink from a large block of ice.

Last were the building light ups. Using varying scales of projectors, the sides of the buildings were used as canvas to display art. Brown brick isn't an excelent reflective media so the displays were often a bit subdued but they gave a really "unworldly" feel to the place. Combined with other art, it was a nice overall effect.



I get the feeling this event is still evolving. I have a tough time seeing how much direct revenue was made from this event (it was free to attend) vs the indirect review of larger mind share and neighborhood branding. Given the economic climate it will be a hard effect to pull out, but just seeing the crowds that attended, the economic spin offs of this event won't be small.


---
Tags: Yaletown(7), art(5), fire(4), performance(4), building(3), lights(2)
From: John Harvey Photo > February 2009
From: John Harvey Photo > Blogs for 2020 to 2005 > February 2009


Thanks for a great write up on our event, I hope you enjoyed your time here.


Last Modified Tuesday, June 9th, 2009 at 01:41:46 Edit
Copyright and Contact Information.