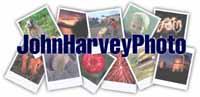 October 2020
The dark gets closer and closer

---
Sunrise At Jerhicho Pier
I enjoy a good walk in the morning, and birding can be a great reason to get up before your family and spend some time outside. One Sunday morning I decided to get up and drive over to Jerhicho peer to see if I could catch a migratory bird coming through. I got a great sunrise but I only had birding lenses so I couldn't capture the city in sunrise.

After walking the shore for a while, I was convinced there was nothing to be seen so I went a little further inland to look around. One stretch of trail has Common Tansy - an invasive plant that does really well in dry conditions. A small flock of birds was pulling seeds out and I didn't recongnize the bird.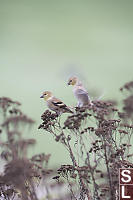 Turns out the birds were American Goldfinches in non-breeding plumage. I'm used to seeing them in the summer when they are bright yellow and generally pretty solitary as they are defending teritory. In the winter apparently they are social.


Close by there was a solitary Hawthorn tree covered in berries. I believe Hawthorn is native and a wide variety of birds visited the tree over the short time I was standing there.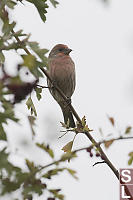 Having seen such an amazing sunrise the previous weekend, I decided to go out the next weekend and properly catch the sunrise. Properly in my mind meant a timelapse starting from well before sunrise. I think a good sunrise some cloud to pick up the light, but not so much cloud that the sun is entirely blocked. Of course you don't know how this will work out until you have committed a good amount of morning to watching. This morning wasn't particularly colourful.



That said, I did seem some nice birds. I saw a grebe swim by in the dark and saw a small shorebird (probably a sandpiper) probing the sand just at the edge of the waves. This time I had a lens for landscape and the camera was busy taking a timelapse. You can't win.

Capilano River Hatchery
So what do you do with kids on a weekend that is age appropriate, but also maintains social distance? I did some research and found it was still Salmon run time, but many hatcheries were actually closed due to COVID. A local one on the North Shore - Capilano River Hatchery was still open and the Metro Vancouver people were putting on a small show. We hopped in the car and went for a walk.

Sure enough, there were displays about the salmon life cycle and a salmon (post spawning) was dissected with someone who could speak about the body parts and how they work in a salmon. I really appreciate it when a display is made this can target older kids such as myself.


Keeping people moving was tricky. While Capilano River Hatchery is built to take tour buses full of tourist, it's still hard to watch from the small windows and not feel crowded. We took a little hike.


I noticed a few weeks later the Capilano River Hatchery closed.

Dundarave Pier to the Pier at John Lawson Park
Nice weather is not a given in Vancouver. When a weekend day happens to have good weather, you know people will be iching to get outside.



Claira was working on a project but Nara was okay with going for a walk. I wanted to do some scouting of piers in North Vancouver to see if there was a good place for sunsets for sunrises. We drove over and parked near Dundarave and went for a walk on the seawall here.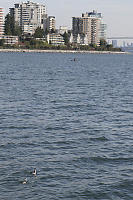 I know I've walked this seawall before - there is a low fence for dogs to walk separate from people and if a train happens to go by it basically stops all conversation. I think last time I started after some shopping in Ambleside so I didn't make it as far east as John Lawson Park.



It was a good walk on a sunny afternoon! The crowds weren't too bad and the towers in Ambleside always make a nice complement to the ocean.


Burrard Dock Pier
One of my "do more" goals for 2020 is to take more time lapses of Vancouver. You don't get good at things without practice, and with experience you can anticipate opportunities. One Sunday morning, I decided to drive over to North Vancouver well before sunrise and take photos of Vancouver while the sun rose.

I enjoyed the time watching the city and the boats in the morning. Daylight savings ended that day so getting up wasn't so much of a job. Next up - I need to learn how to pan through a time lapse so that I can animate it more.


Halloween!
We weren't planning on doing much this year. The province was recommending you limit your contact and there were lots of funny videos of people setting up candy drops so kids could still come by. We have a few neighbors on the floor we wanted to visit, but the plan was to visit a few people and watch an age appropriate scary movie with the kids.

As a kid I remember costumes (my mom made some pretty impressive costumes using a sewing machine) and masks, but I don't remember face paint. Helen is pretty good at drawing and painting and it's amazing how much a little face paint fills in a costume.


Things don't always work out the way you think they will! The neighbors kids were also getting dressed up so we all decided to visit the neighbors together.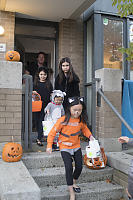 Trick or Treating with COVID just feels weird. It's clearly nice that people give your kids candy, but your kids forget in seconds about social distancing. We tried.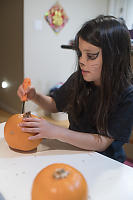 Claira's class had a pumpkin carving project so we happened to have punpkin carving tools. We happened to have picked up pumpkins earlier in the fall. The kids decided it would be fun to carve pumpkins. Sounds good!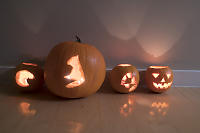 ---
Tags: pier(3), costume(3), time lapse(2), sunrise(2), Vancouver(2), face paint(2)
People: Nara(4), Claira(2), Helen(1)
From: John Harvey Photo > Blogs for 2020 to 2005 > October 2020

Last Modified Saturday, January 2nd, 2021 at 22:23:56 Edit
Copyright and Contact Information.