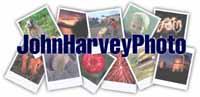 November 2020
And some clever quip...
---
Minnekhada Regional Park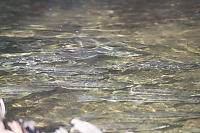 'm a member of Nature Vancouver and quite enjoy their Thursday evening talks. Recently, they had a speaker from Metro Vancouver come in to talk about wildlife cameras and bear problems at Minnekhada Regional Park. I have never been to Minnekhada Regional Park so I wanted to check it out. We decided to go early because we knew the parking was quite limited. Just before we got to the park, we noticed a lot of no-parking signs for what seemed like a pretty boring stretch of road. We weren't even in the park, and we had seen out first bear - the stream beside the road was full of fish and this young black bear was looking for an easy breakfast.

Already, you get a sense of the problems with nearly urban bears - the park borders on a massive blueberry farm which attracts the bears for much of summer. The salmon stream keeps the bears here longer.



We drove into the park and got a parking spot. We bundled the kids up (nobody likes cold hands) and got on our hiking boots because it had rained in the last few days.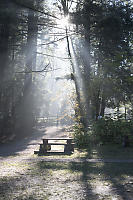 While it wasn't sunrise, it was still early enough that there was morning fog.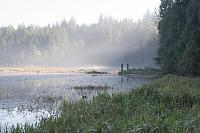 The first hike near the lake was on a wide trail that could easily take a stroller. The water was glass flat.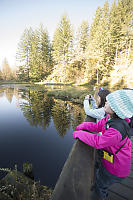 The lake is divided into two pieces what looks like a road filled across the lake. To walk there you need to take a smaller and rougher trail. Away we go!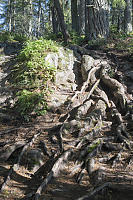 We had a break and then turned around and went back to the car. While there are many circle routes through the park, we wanted something simple. We were back in the car and to town in time to get lunch.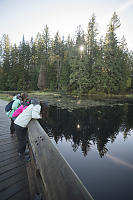 Lumiere Vancouver 2020
With COVID, I'm impressed when any event still runs. Lumiere is a light show that brings a little warmth to November. Previous years have been a single weekend event and drew fairly large crowds. This year it ran on for weeks and didn't have interactive shows, but I'll take it! I picked the kids up from school and we drove down to the West End to see the lights.

People were really good about taking turns around the displays and the crowds were light. Nara and Claira cooperated nicely, but I suspect that might have been because Marble Slab Ice cream is just around the corner from here.


Morning walk at Beaver Lake
Getting up early and going for a walk starts the day off with a minor accomplishment and provides insurance again "I did nothing with the day". Sunrise is sometime after 7am so it isn't that much of an ask to be out for sunrise.


There is a spot about half way around the lake where people feed the birds. I didn't bring bird feed, but enough people come by that there is usually seed still on rails and ground. Today there was another surprise - a coopers Hawk was in the tree and the near birds birds were sounding the alarm.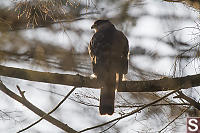 I thought the hawk was looking for ducks in the lake, but reading about them, they seem more likely to go after smaller birds. The hawk did eventually fly off and the crowd of birds came back to look for seed.


Helen has been working on various formulas for bubble solution and we still had a tub of solution unused. The leaves in Granville Loop Park were changing so we decided to catch some late day rays.


Our bubble wands are home made - Helen came home with a large group of dowells and screwed eye hooks into the ends. She used cotton string to make the loop and tied some washers off a loop at the bottom to make the loop hang open. We have some larger and some smaller wand sets.

The activity alternates between making big bubbles and popping bubbles.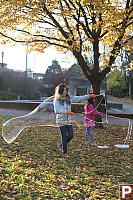 Nara seemed to have more luck with the wind to get large bubbles to fly.


I got a rock polisher for Christmas and I've been gathering rocks to put in the tumbler. The kids have some plants that needed larger pots and we had a real hard time finding a nice pot in November. We eventually stopped in the Thomas Hobbs florist because they had a decent selection and the kids got inspired by how the florist pot their plants. After dinner we re-potted the plants:



And then broke out the polished rocks and started decorating the top of the plants. The favorite was the calcite we collected from Whistler, simply because we had a fair amount of it and it was mostly consistent. The quartz from the fraser river looked good, but was mostly too big. We had lots of mixed pieces we had from a "starter bag" I got for $10 and a few of those pieces got used for accent.



Living in a Condo, we don't have a ton of space for "stuff". It was nice to put the rocks to some "use".

Happy Birthday Helen!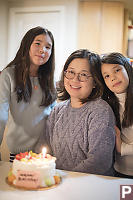 Normally we would do a family get together for Helen's birthday, often with our family in Burnaby and family in Victoria. The family in Victoria is out because of COVID, but we have been seeing Helen's family in Burnaby. We now have new restrictions to keep Coastal Health (Vancouver, Richmond and North) separate from Fraser Health (Burnaby, Surrey and east). Sorry it's a bit small scale, but Happy Birthday none the less!
Squamish Estuary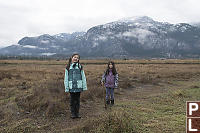 Another Nature Vancouver tip - there are trails in Squamish Estuary that are worth the time to see. Near winter isn't really the time to see migratory birds, but I wanted to do a bit of scouting to see what it's like. Helen was working this weekend so we made half day out of it - go in the morning, grab a food truck lunch and be back in Vancouver in time to pick Helen up from work.

Next to the Estuary is the Squamish Spit - a very heavily armored spit that goes deep into the harbour. I think the idea is to keep the squamish river from fowling up the deep water port, but it also gives you access far into the ocean. In the summer you can rent water sports equipment here, but in November everything was closed.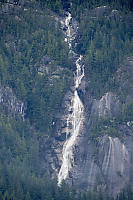 The view from the end of the spit is nice. You can see Shannon Falls, the chiefs with the fresh snow and water birds on various bits of floatsam. The kids wanted to stay in the car and watch video.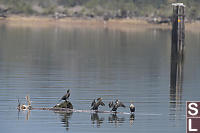 We went to The Locavore Bar & Grill for lunch. They took COVID restrictions seriously so we had a relaxing lunch.

Going out for Ice Cream
The kids wanted Ice Cream so we went for a walk to Ernest to get some cones. The days are shorter so even if you start at 3pm, you start to see sunset.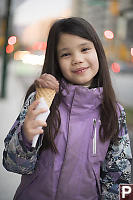 Nara has decided that the cookies and cream at Earnest is "to die for" - the best she has tasted anywhere. The rein of Marble Slab has ended.




We walked back via the city streets instead of the waterfront. It's impressive how much the city is changing.
Walk At Stanley Park
Another weekend where only a few hours were dry. We purchased some bird seed from Wild Birds Unlimited and went to Beaver Lake to walk around the lake. When we arrived we discovered they were doing active construction to change the water levels in the lake. The city has been building various culvurts to baffle the beavers and they have really brought out the heavy equiptment to give them options.

About 1/3 of the way around the lake is a place where people leave bird seeds. The birds know the drill - they are flying close looking for seed as soon as you stop.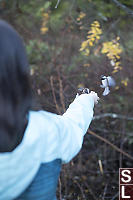 The kids enjoy this feeding out of hand trick. I'm not thrilled.


We walked around the rest of beaver lake, but there wasn't much to see because of active construction. We got back in the car and decided to drive over to lost lagoon to see if there were things to see there. Surprise - there was quite a show! A small family of raccoons swam into the shallow water are started looking for food in the shallows.


I was quite happy to see the raccoons didn't go up to people asking for hand out - this was mostly wild behaviour, albiet with quite a crowd of people watching.




We watched until the racoons disappeared under the bridge.


---
Tags: Stanley Park(6), fall colour(5), bubble(5), hand feeding(3), Lumiere Vancouver(3), lights(3)
People: Claira(13), Nara(10), Helen(3)
From: John Harvey Photo > Blogs for 2021 to 2005 > November 2020

Last Modified Wednesday, May 26th, 2021 at 22:30:31 Edit
Copyright and Contact Information.