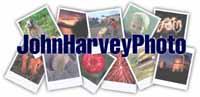 Codville Lagoon to Jenny Inlet via Ocean Falls
---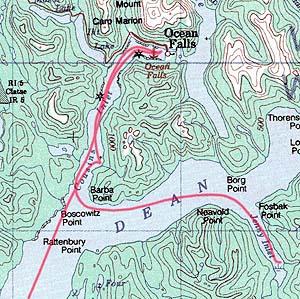 Unknown to use, today's trip covered three major destination - Wallace Bay, Ocean Falls and Jenny Inlet.
Wallace Bay
The boat started at 6:30 am - we motored out of Codville Lagoon and up to Cousins Inlet. Our first stop was Wallace bay where we hoped to see a collection of cabins and a petroglyph. I was a little surprised to see all these cabins here - were at least three hours from Bella Bella/Shearwater by small boat. I guessed the fishing was good.
The cabins were in various states of repair. Some are still in pretty good state of repair. Other cabins have collapsed. There are still trails between the houses but the forest is getting pretty thick around the houses.
On one of the trails between the cabins Jan found this nice collections of mushrooms. I looked them up - they are (probably) Scaly Vase Chanterelle. We continued looking for the Petroglyph (apparently it's on a rock that moved into a rock wall in front of one of the cabins) but we never found it.
Ocean Falls
We continued up Cousins inlet and came to a most amazing site - a town in the middle of forest! First you see a small collection of houses (The bedroom community) and as you turn the inlet you see Ocean falls proper. Ocean falls is dominated by the large dam and multi story buildings. Behind the damn is massive Link lake where lumber was collected and sent to the pulp mill or lumber mill.
There are some interesting old pictures of Ocean Falls in the
BC Archives
:
Title

: "Link Lake Dam at Ocean Falls".


Photographer/Artist

: Clark, John William


Date

: [192-?]






Title:

OCEAN FALLS


Photographer/Artist:

McRae


Date:

[192-]
The pulp mill has been mostly torn down (except for the massive tool works) but the dam is still going working. One of the locals told us that the dam is providing power for the remains of Ocean Falls, Bella Bella and Shearwater on one third of one of the four generators. Most of the local community (many homes, an olympic sized pool, and other buildings) was torn down when the provincial government "renormalized" the area but some of the core of the town remains - a few apartment blocks and a hotel, the fire department, and a few buildings.
Some of the town is still functional - the court house has a library, a clinic, and a post office. The hospital now has coin showers and a pretty good cafeteria style restaurant (way over equipped for the job). There is a fishing resort and apparently there is a store about 15 minuets from the ferry landing. One stop you shouldn't miss (if it's open) is the museum.
The Museum in Ocean Falls
Once we walked around the town, we stopped in at the museum. The museum is in the basement of the co-op store, what used to be the Bay. The basement is filled with stuff that was left around the buildings when Ocean falls was "renormalized". One wall is covered in signatures from people who have visited the town museum. Because Ocean falls is a deep water port (used for pulling out the lumber and and paper from the mills) it could hold a cruise ship. Unfortunately, the town has a long ways to go before it's a cruise destination.
After our tour of the town, we walked back to the boat. Just past the dock, just off to the side of the road, we noticed two deer eating the plants. The deer were a yearling and a two year old Mule Deer (or black tailed deer).
We got back on the boat and drove off to own next destination - Jenny Inlet.
Jenny Inlet
Welcome to Jenny Inlet! After the (decaying) development of the Ocean Falls, it was nice to see something recovering. Jenny Inlet was logged in 1992 by interfor and it's recovering slowly.
We tied up at the dock that was left behind. We think the dock was used to unload supplies to support the log cutting operations.
We got off the boat and went for a walk before dinner. After walking up the logging road (boy did I wish I had my mountain bike) we came across a nice waterfall.

We continued walking down the road and arrived at the log sorting yard. From what I understand logging trucks come down with a full load of logs and after the restraining cables are removed the logs are dumped and sorted. The sorted logs are then bundled together, tagged and pushed into the ocean where they will eventually be towed to market.
After dinner we split up. Some of us (Bob, Dan, Charles, Mike and myself) went out for a fishing trip.
Jenny and Paul went out for a kayak. All to short it became sunset and then night.
---
Tags: derelict(10), logging(6), coast(5), building(4), cabin(3), Dam(3)
From: John Harvey Photo > Mid Coast of BC on the Curve of Time > Codville Lagoon to Jenny Inlet via Ocean Falls
From: John Harvey Photo > John's Overnight Page > Mid Coast of BC on the Curve of Time > Codville Lagoon to Jenny Inlet via Ocean Falls


Someday, I will go to Ocean Falls.

Dave Hedges
Sunday, June 3rd, 2007 at 18:10:13

I looked at your pictures of Ocean Falls and was fascinated by what I saw. Thanks you for sharing your travels with me.

Kevin Wells
Sunday, June 3rd, 2007 at 22:18:33

Wow, those pictures are really amazing. Considering that I haven't been back there since 1980, I still remember my home town. Of course it was alot more lively but the beauty still remains. I have been wanting to go back for a visit but afraid of what I was going to see. Seeing those pictures now makes me want to revisit, thank-you for sharing with me and others the rare beauty of Ocean Falls. Shannon Goode(Gurney) 1975-1980

Shannon Goode(Gurney)
Saturday, June 30th, 2007 at 10:31:24

hi,I lived in ocean falls in 1960,i was 20 years old then.This was the best time in my life,and i always think back of my OCEAN FALLS.My biggest dream came true when i saw after 35 years in 1995 )we got there in a small boat froM BELLA COOLA )my ocean falls back.I enjoyed your fotos very much.

hi my name is jorge i know ocean falls in 1976 year, i need speak with sherri shaw,sorry because my english is bad tank you. jorginho53@hotmail.com

jorge
Monday, May 19th, 2008 at 18:06:19

Millie and John Fair, my grand parents lived in ocean falls for many years (1950ish plus or minus?-1973), and I had the joy of visiting numerous times between 1956 and 1966. I have always had a passion for Ocean falls, as have many who have lived or visited there. This passion has led me to open www.OceanFallsMuseum.com and invite all those with photo memories to submit them to be a permanent photo record of the place we all love.

i havent been back since late 73 my mom used to own a small bait and tackle store plus my dad worked in the mill as a safety man and he also worked in the hospital love the pics wish i go go back

chris rawson
Monday, January 26th, 2009 at 12:43:36

Enjoyed your photos very much. Have many similar ones I took on my only return to the home town after a 35 year absence, in 2000. Once a rainpeople, always a rainpeople.

Brian Adams
Tuesday, March 17th, 2009 at 12:58:03

I was born in O.F. on 07/12/1946 and left on 07/31/1955. I had the opportunity to return the July 1st weekend of 1988 for three glorious days. I met Jim Owen and Hazel at that time and some others in town. My big disappointment at the time was that my mountains were all stripped logged but I see from photos they have filled in. I think of O.F. daily and go into different sites just to look at the pictures. For all who ever lived there, there will never be another place in the world like O.F. How lucky all of us were to be born and/or lived in such a place. I tell everyone I had National Geographic ever day for nine years. I am so thankful for all these sites as I can share my childhood and my town with my children and grandchildren. I now live in Rochester Hills, MI USA.

Jean Tokarski-nee Taylor
Tuesday, March 24th, 2009 at 08:52:51

I lived in Ocean Falls for just under two years from 1976-78...ages 4-6. My dad was one of the two RCMP officers stationed there. It is so cool to see the old court house still standing! We lived in one of the upper apartments and me and my sister would run to the front windows to watch the barges drop thousands of logs into the ocean! We even played downstairs in the jail cells when no one was "residing" in them. We learned to swim in the old pool and enjoyed visits to "Scotty's" for candy necklaces and licorace..Great memories!

Heather Shaw
Friday, April 10th, 2009 at 14:01:51

I worked with someone a while ago who was born and raised in Ocean Falls, it sounded like a piece of Heaven on Earth. Years later I met someone who spoke fondly of Ocean Falls again and showed me some pictures. It's been many years since I first heard of this beautiful place and hope that someday I will be able to make the jorney there. It looks and sounds beautiful

Another great visit to my beloved Ocean Falls. Thanks for publishing this. I lived there as a young man from 1969 to 1972. My intention was to stay only a few months to make some money and then go back to civilization. Ha. Check out my blog and click on Ocean Falls in the Labels. I have just today finished my stories and photos project.

Ocean Falls was a very special and magical place and I am glad I spend many years of my childhood there. I lived in OCean Falls from 1974-1980 ages 6-10. My mom was the grade 2 teacher and my dad taught at Charleson High School there. Sadly, I lost all my photos full of memories of birthday parties, the sandbar, christmas concerts at the movie theatre, school friends...when my house was flooded. So, these photos of Ocean Falls were very nostalgic for me to see. If there's anyone out there who remembers me and has photos of me or my parents or brother (Eric) hope you can get in touch with me...

charlotte (carlos)
Wednesday, June 3rd, 2009 at 22:05:23

We lived above the Post Office in 1976,my father was the Postmaster.I was 11(Grade 6)at the time,lots of good memories of old friends and adventures,what a great place.

Lorne Williamson
Monday, July 13th, 2009 at 20:45:19

Hi I lived in Ocean Falls as a child from 1966-1969. My father was the Anglican Priest there during that time. I often think of my time spent there surrounded by mountains and the ocean right at our front door, and yes how I miss it to this day. After living all over Canada, nothing compares to the beauty of this special place!

Teresa Catton
Saturday, July 18th, 2009 at 16:58:57

Hi i was born in ocean falls in 1954, my brother Brent was born in 1953,sister Lori-ann 1958, and brother Kelly in 1960.We are the children of Barry and Jean Mackay and granchildren of Roy and Grace Mackay.We have many fond memories and we left the town too soon.We now all reside in New Westminster,BC.It would be great for all of us to go back there, and if anyone remembers us please email lesengelquist@shaw.ca.

Darlene Engelquist/Mackay
Sunday, August 16th, 2009 at 20:25:42

I was born in Ocean Falls in 1955 and lived there until 1964 when I moved to Scotland with my mum and dad and 3 sisters. All of us are back in Canada now , I now live on the Sunshine Coast and hope to visit Ocean Falls again some day. I have lots of good memories of the town.

John Law

Wednesday, September 16th, 2009 at 11:46:55

For many years I have planned to return to Ocean Falls but sadly have never had the chance. I so miss the rain, go figure. I miss the people who called the town home. Ocean Falls was a place where we were all protected by the security of the inlet.

Bob Wagner
Sunday, March 14th, 2010 at 11:26:08

I lived there with my "SHAW" family from 1973-80. Rhonda (me) and my siblings - Tracy, Kevin, Carmen, Sharri, and Tony. Tracy and I left in 1980 to finish high school, the rest left later. My dad and stepmom Hazel didn't leave until 1990. I loved the years I was there, 9 - 16 years old. I could walk everywhere, be involved in everything..... It was an awesome life for me.... Then the closure and back to the city I went..... It's a chapter of my life I will always think of. I'm so thankful to have lived there and stay in touch with many of the friends from there still.

Rhonda Campbell (nee Shaw)
Friday, April 9th, 2010 at 19:42:01

I lived at Ocean Falls with my Ablett family from my age of 7 to 14 (summer of 1942 to Easter of 1947. Best years of my childhood! Great times at Bella Coola for Cubs and Scouts camps..Sleigh rides down the Dam hill on snow that could be gone in a few hours. Softball games between the Millwrights and the Papermakers. Delivering the Vancover Sun newspaper ..always wet from the rain! The Burma Road where all the duplex houses were. Going down to the fishing boats to buy any salmon fish for only one dollar! School Phys. Ed. outside almost always in the rain.Soft balls and soccer balls painted with shellac to be fairly waterproof. Celebrations like Dominion Day...now called Canada Day...free ice cream and hot dogs all provided free by Pacific Mills limited! The roar of the often heavy rain on the roof of my upstairs bedroom in house 691. The wooden roads. Especially the ones so like bridges on the hillsides of much of the townsite. The beautiful mountains,Sawmill and Clare Marion. Huge Link Lake and the dam. And the very friendly people of course!

Doug Ablett
Saturday, May 29th, 2010 at 19:49:18

HI , I was born in ocean falls in 1965 , I keep looking at pictures of my home town wondering when i will make a trip to go back. Parents immigrated from Italy in 1960. My dad work in the mill for ten or eleven years .We now live in Powell River , B.C. where we have been ever since. I would like to back soon to Ocean Falls and see the beautiful scenery,maybe do some fishing . Roberto Ius Monday October 11, 2010

Roberto Ius
Tuesday, October 12th, 2010 at 01:06:27

My dad Adam Kornafel entered the wonderful world of the Rain People I believe in 1954-55 dragging me and my older sister Eva and of course my mom Alicja with, and later came my younger sister Grace who was born in O.F. MOM and DAD are both gone now and i hope they are playing kanasta with their old friends at the Pasaj campsite at Camp 20, which by the way is still there if you know where to find it. We emigrated from England as displaced people due to the war .It was my dads close friends that beckoned him there, as old friends take care of close friends. I was only two . My memories of a life that i could not ever replicate and the most important part, NOT FORGET .I have been to many places since leaving my paradise that the man above put there for the selected few, THE RAIN PEOPLE. This was my heaven. We left our home in 1967 and reside in Chicago Illinois. Roger Kornafel Tuesday October 26, 2010 at 6:49 PM

Roger Kornafel
Tuesday, October 26th, 2010 at 16:56:44

Hey Doug Albert I guess we have something in common. I too lived at 691, I believe my dad rented it for i think 28 or 29 dollars a month starting in 56 or there about.I slept to the right of the staircase in that little cove , close but comforting and too many times fell asleep to the sound of rain hitting the roof.It was my soother in life, the rain and guess what i also delivered the Sun Times (i still have the certificate that the Sun gave me for some kind of education at their expense)I Did half the route starting at the top of 10th going to the turnaround above the High School,also belonged to the Sea Scouts AND STILL HAVE THE STREAMERS AND SOME PATCHES THAT I EARNED. Back to the delivery, the meetings at the Shaws house were a must from time to time i was only fifteen.Kaz my trucker contact from Lumby comes through the Chicago area from time to time and we meet. Showed me some pics of the docs that had my dads name for 691 you know , at the O.F. museum. All i can say is wow. I was 2 when we arrived and 17 when we left. It hurts to remember because there is no other place in the world like O.F. Roger Kornafel Tuesday October 27 2010 9:04 PM

ROGER KORNAFEL
Wednesday, October 27th, 2010 at 19:04:45

Hi Roger. Thanks for commenting. I live in Kelowna, not far from Lumby. I am retired and all that good stuff. I look at the O F sites often. Such great memories! Have a friend living here that was also at O.F. when I lived there. We often reminisce about it. Also this friends mother Mrs. Davies was the agent for the Vancouver sun at that time at O.F.. Interseting that we lived in the same house at O F and that we also both delivered the Vancouver Sun newspaper. My family moved to O F from Kelowna in the summer of 1942 and returned to Kelowna in 1947. The world was a lot bigger then! Say Hi agasin just for the fun of it. Doug

Doug Ablett
Monday, November 22nd, 2010 at 22:49:15

Hi, It sounds like you go to Wallace Bay quite often. I am wondering if your friend Greg who has a cabin there or yourself can help my friend Glydia Buchanan from Squamish. Her parents, John and Dorothy Buchanan( now deceased) used to have a printing business in Ocean Falls called Buchanan printing until the 1965 slide took out their business, and they moved their family to Squamish. The family also had a cabin in Wallace Bay, and the family has no idea what happened to the cabin; their paper trail ends with an ad in paper as their parents were trying to sell it, but the family is quite sure it was never sold. They have no idea what happened to it, if it was sold, if it perhaps reverted back to the Crown, or if it has fallen to the ground. Any information you or your friend could supply would be most helpful. Best regards, Terry McGregor

Terry
Friday, January 7th, 2011 at 17:29:51

Hi, I was born in Ocean Falls in 1952 and my brother in 1953. My Dad built our house in Martin Valley. My brother and I finally got back there in 2007 and it felt like I had come home. We found the house we lived in plus in town where our grandparents lived...George and Beatrice Flatt. My childhood memories are unbelievable of this magical place. The air the mountains the water, the ocean and then Martin River where we played all the time. The sandbar where the guides and scouts had picnics and of course our family always had picnics there. I remember even then all the bears and we were really impressed when we saw how abundant the bears still were. The gentleman that looks after city hall helped us out a lot to locate our house. Someone lives there now so looking at it from the lane was as close as we got but still gave us a big thrill. I want to go back again soon.

Jeannine Turvey Monday May 9,2011

Jeannine Turvey
Monday, May 9th, 2011 at 17:50:09

Hi my name is Brad hehr--My parents Buddy and Jan Hehr lived in Ocean Falls fron 1938 to 1960

My mothers parents were Ernie and Sue Barclay

My father had sisters and brothers--Doug/gordon/Tony--Joanne/Georgina

I am going to Ocean falls this summer and am looking for any info at all about my parents home,where it is/was or any other information about our family.

My parents married in 1956 and had my oldest Brother(Fielding) in 1958 before moving to the Island.

If anyone can help it would be much appreciated---I will be coming by boat on or about the 18th of July 2011.

Brad Hehr

Brad hehr
Monday, May 30th, 2011 at 21:21:55

In the summer of 1957 I spent the summer as a children's camp ministry with Marine Medical Missions. We had a small coastal freighter named the MS Nunivak and our first camp for the summer was at Jenny Bay. There were 7 counselors - 3 men and 4 women - from Bible colleges in California, Alberta, Idaho, and Minnesota; and the five "crew members" of the Nunivak. There were no facilities at for the camp so we set up tents for the campers about 100 years into the forest. We had a smaller ship loaned to us by the Shantymen of Vancouver Island and this was our "bus" for picking up the kids from Ocean Falls, and nearby fishing villages. Jenny Bay, with the snow-top mountain across the bay, was incredibly beautiful and the forests were almost untouched by logging. We were there for 10 days and had 15 inches of rain during that time. But is was beautiful and we really enjoyed the kids. So much more to tell but I better stop.

Dave Shaver
Tuesday, March 13th, 2012 at 15:50:50

Hi my name is Tammy (Walker now.) I was Tammy Pollard. My husband, Lee Pollard and I lived in Ocean Falls in the late 1960's, early 1970's. My husband (now deceased) who was the electrician for Crown Zellerbach had his picture in the local newspaper. I opened the first hairdressing salon named 'She'(inside of the hotel) in partnership with Carol & Al Jakel. I also hired quite a few locals to help out in the salon. The town presented us with a huge cake in the shape of an artists palette on our opening day - it was quite an occasion. I do have some photo's. Many people attended our cocktail party. We did extremely well & the salon became very popular with locals, the natives & people flew in from neighboring places to have their hair done. I remember the outstanding beauty of Ocean Falls, the almost constant rain & the fierce winters! Upon our first arrival in Ocean Falls in mid winter, the ship let us off at the wharf at 3am in the morning & unceremoniously threw our luggage off - we then walked through the snow with everything in hand, to the hotel & checked in. These were the happiest years of our lives, we made lots of friends in the close knit community. I could go on & on. If anyone remembers me, PLEASE contact me at: tammywal@mweb.co.za I'd really love to hear from you! Thank you.

Tammy Walker (ex Pollard)
Friday, March 29th, 2013 at 05:53:01

check out "Where the (Hell) is OceanFalls" - Tons of pictures new & old and many former OFers 'People of the Rain' post

Patsy
Monday, April 15th, 2013 at 21:07:19

I just found this information about this trip to Jenny Bay. A place I also spent time at. Was good for the weekend getaway by boat. I noticed that there are peopl who have posted here inquiring about people who lived in OF at one time or another. I have come across quite a few on Where the (hell)is Ocean Falls lots of pics and many residents from over the years

Sandy Ossinger
Tuesday, December 10th, 2013 at 13:54:00

Hi
I lived in Ocean Falls from 1942 to 1946 - It was a wonderful place to be a child in. I have some photographs that show various parades and life in the area at that time. Is there anyone who wants copies?
thx

Marg
Sunday, August 10th, 2014 at 14:27:59

Hello, I lived in Ocean Falls from 1946 to 1955 and would very much like to join the "Friends of Ocean Falls", can you tell me how to do that? Thanks very much Mary Baird

Mary Baird
Thursday, September 17th, 2015 at 17:14:39

As a student at Azusa College, in California, I volunteered to spend the summer of 1957 with Marine Medical Mission, headquartered on Thetis Island near Nanaimo, BC. I was assigned as a crewman/counselor on board the MS Nunivak, a small coastal freighter. We organized Christian camps for children from the nearby fishing villages and set up a 10-day camp on Jenny Bay. What a beautiful location with the mountain across the bay looking down at us. There was little trace of any previous activities and the woods were an "enriched" mossy rain forest (we had 15" of rain during those 10 days.) We set up tents deep in the woods for the boys, and the girls stayed in tents near where the ship was tied up. We had to fell a couple of birch trees to make a bridge across the stream that ran into the bay. However, the rain washed it out and we had to use a row boat to pick up the girls for the activities. It the many years since then I have traveled all over the U.S., and have been on mission activities in Ecuador, Peru and Brazil. I have never visited any place as beautiful as Jenny Bay, and the "end of inlet" location of Ocean Falls. When I visited (by the WEB) Jenny Bay and Ocean Falls and saw the desolation that resulted from the logging years it about broke my heart. Thanks for the opportunity to share this with someone.

Dave Shaver Sr.
Thursday, July 7th, 2016 at 14:39:05


Last Modified Tuesday, June 9th, 2009 at 00:29:31 Edit
Copyright and Contact Information.