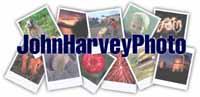 Sunshine Coast
Another Summer Weekend Trip!

---
Helen works every sixth or seventh weekend. Normally we have a regular weekend rhythm - actives like gymnastics or Chinese class and a variety of birthdays and play dates. In the summer we get less of that so when Helen works for a weekend, I can take the kids and leave the city for a little adventure! Our first Adventure weekend was to
Spences Bridge for a single night
. Last year we made it a
multi-night weekend in Lillooet
. This year we booked a place in Davis Bay on the Sunshine Coast.
Trying to figure out what to do when you are no where near a place often relies on luck - you just stumble upon an event or an attraction. I was really happy to find "Pender Harbour Days" on some website. There are a number of things going on in a small place - a wood boat festival, a lunch BBQ and face painting to name a few.
The first thing the kids wanted (because the line was short) was face paint. They had two artists working and the wait was only a few minutes.
Next up is boat building! There is a Wooden boat Festival in Vancouver at Granville Island so they kids have built boats before. The kids get hulls and masts and they use a pile of wooden blocks and other supplies to make up their boat.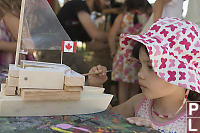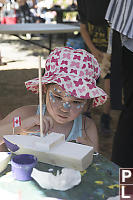 They also had paint and sails so the kids could spend lots of time customizing their boats. They had a small wading pool where kids could try out their boats to see how well they worked. A fully clothed toddler came by and sat in the pool when he was too warm.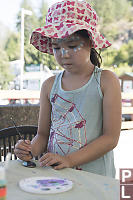 There were several other activities at Pender Harbour days. There was rock painting station where you could color small animals onto rocks. They had plenty of examples and lots of colors to paint with.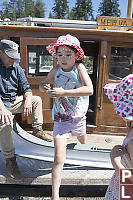 Being a wood boat festival, you could also visit local wooden boats! This was a small festival so many of the boats were open to tours.

My surprise for the kids was horseback riding. Before we left, I booked a trail ride for the kids at "Farm Ventures" roughly between Gibsons and Sechelt. They have briefly ridden ponies before, but never for longer than minutes. This ride was booked for an hour with a 15 minute extra ride if they were doing well. The farm was well setup - we had two walkers to go with us and they had kids appropriate helmets and stirrups.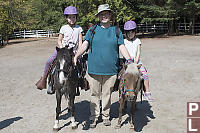 There was lots of smiles.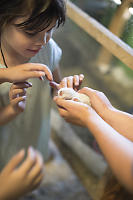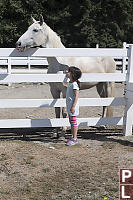 After we got back to the farm, the kids looked at some of the animals. The farm had a newborn rabbit which Claira really liked a white horse which also Claira's favorite colour of horse. I'm pretty sure Claira would have been fine if I left her here all day.


We grabbed lunch fixings at the local IGA and prepared lunch at home. We rented the bottom floor of a beachfront home so we had lots of beach in front of us. Kids played on the patio, played on the logs and chased bugs.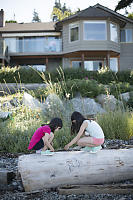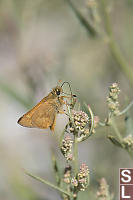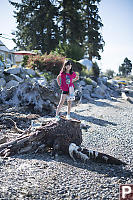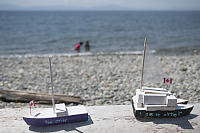 About four minutes from our house was a wharf in Davis Bay. The wharf always had something going on.



One half is reserved for swimmers and there were lots of university aged kids jumping and swimming. The other half was reserved for fishermen who were pulling up crabs and fish. You can see a large number of lines hanging from the left side.

When the crab traps came up you would get a mix of creatures. Lots of crabs, most of them under sized. Many pulls had sea stars in them - I didn't realize that sea stars moved fast enough to get into a trap.

Across the street were some restaurants that did well with the out of town clientele. We went to the Wobbly Canoe for dinner both nights, but I had to ban repeat ordering of the macaroni and cheese. On Monday morning we had breakfast waffles at the Gourmet Girl Cafe. The kids went shopping at the Mosaic store where they both found small trinkets they loved.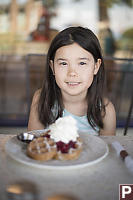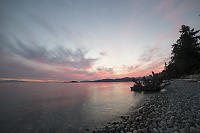 After a days outside and lots of activities, the kids fell asleep pretty quickly. The sunsets were quite spectacular (you could see people coming out from other cottages to take pictures). The night sky had obvious blooms of light from Sechelt and Nanaimo, but quite a few stars were still visible. You can just barely make out the Milky way on the left side of the panorama below.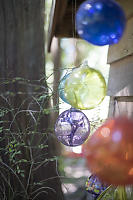 Our weekend was too brief. We checked out at 11am and drove south toward the ferry terminal. Being a holiday Monday most of the artist studios were closed but we did find that Molten Spirit was open. I really enjoy art mixed with west coast nature.

We arrived in Gibsons, found parking and went to the wharf to have lunch with a view.


After lunch, we explored a few galleries. We made our ferry reservation with only 2 minutes to spare and were back in Vancouver in time for dinner! A great long weekend out of the city!
---
Tags: painting(4), boat(3), rock(3), beach(2), horse(2), face paint(2)
People: Nara(12), Claira(10), John(1)
From: John Harvey Photo > John's Overnight Page > Sunshine Coast
From: John Harvey Photo > John's Overnight Page > Sunshine Coast 2 > Sunshine Coast
From: John Harvey Photo > Blogs for 2020 to 2005 > Sunshine Coast 2 > Sunshine Coast

Last Modified Sunday, August 26th, 2018 at 21:09:15 Edit
Copyright and Contact Information.