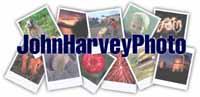 Whistler August Long Weekend
Making the most of a long weekend!

---
Day 1: Shopping!
We knew we didn't want to hike both days so we had to fill in day with not hiking. There is plenty of shopping around the village and the kids always need something - this time it was sun glasses. We walked from Whistler village to blackcomb village and found a drop in kids entertainment area - rides were 12 dollar each.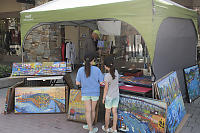 After we got back, I wanted to try out a rock hounding site I read about in a book. In a cutting at the side of the road (about 5 minutes from our place) there are rocks with small cubes of pyrite. The rock is quite soft so little hands can break the cubes out easily.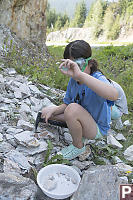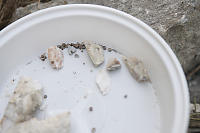 We tried another place that was supposed to have quartz crystals. The road was blocked by campers so didn't get to find it.


Day 2: Go to Peak to Peak!
Our big hiking day! From walking around the day before, we noticed the line up at the Whistler base was much larger than the line up at the Blackcomb base. Since the goal is to go up both mountains and our place was roughly equal distance to both, we decided to start with Blackcomb. After paying 200+ dollars for the tickets for the whole family, we basically walked into a gondola and started riding up.


The kids have been in lots of gondolas - Squamish, Hell's Gate, Grouse (many times) and in Japan. The trip up Blackcomb is long and you can see the plants change as you go up. Roughly half way up you could see meadows full of red Indian Paintbrush, but by the time you get to the top, there was none.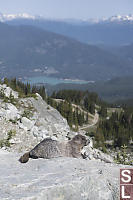 We got off the gondola to not very busy mountain top and promptly saw a marmot - right next to the edge of the plaza. The animal was very patient - lots of people wanted photos. It seemed the flies are what really drove him away.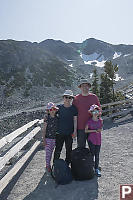 Our plan was to hike the Alpine Loop - roughly 1.4 km. At this elevation there are trees and lots of different micro climates with flowers and ground cover. The trail was wide and flat.

I was surprised the Alpine plants were in full bloom - we really hadn't planned it that way. This has been a somewhat cool summer so other years they may be blooming earlier.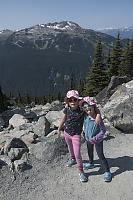 There were views as we hiked the small loop. The kids haven't done multi hour hikes up the side of a mountain so they may not appreciate how premium hiking when you start in the alpine is.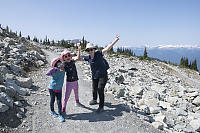 As we came back to the lift station area, we spotted more marmots nibbling plants and running around. We heard a helicopter starting up and quicken our pace so we could see it take off and fly down towards town.



It was nearing lunch time so we decided to try out the peak to peak gondola and then have lunch at the Whistler peak. Again, the gondolas were mostly empty so the kids had no problems getting window seats.



After lunch, the crowds were getting heavier. We decided to walk over to the peak express and take the chair lift to the peak. The walking route there is obviously designed to support large crowds.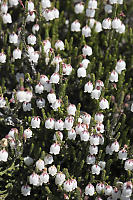 The kids have been on chair lifts before for skiing so this wasn't a new experience for them. I was impressed by the starkness of the terrain - it is mostly rock, snow and lost items. While you are safe on the chair, it does feel strange being suspended so high over terrible landing.


The top of Whistler really is an experience. There is still a signpost I saw 15 years ago. What was once a hiking high point is now overrun with people that just stepped off the lift. Roads and wide trails have been cut everywhere. Amazingly, there are still plants grows in the rocks but those plants have a lot more traffic (and construction) to deal with.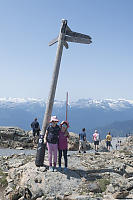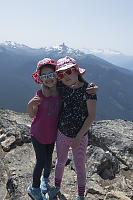 The top of Whistler is quite different plants wise than the hiking trails around Blackcomb.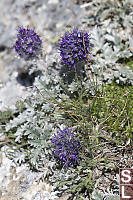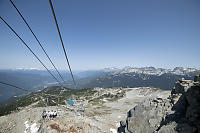 The download limit on the peak express is 50% so we started worrying about our ability to get off the peak. We waited in line and took a chair lift back down to lift base. From there we walked to the Roundhouse lodge and got the kids ice cream. It's now 2:30 - probably the hottest part of the day and there a line ups everywhere except down. After a last look around, we got into a gondola and went down to Whistler village.


Evening - Stars Over Green Lake
I understood we were nearing the start of the Pleiades meteor shower. They fall from the North East so I needed a good view in that direction. You can't get a ride up to the peak at night and being in the village, mountains crowd your view. I figured lakeside would be a good view and I found a good spot near where the airplanes land to take in the view.


There were a few surprises. The highway on the far side of the lake at points faced where I was standing so I got considerable glare from the traffic lights. Second surprise was the Northern Lights! At the time I could see a bit of glow, but I thought it was from the night lights performance near cougar mountain. Reading later, I found out the Northern lights were brighter than normal.
I did see a few meteors, but not the shower everyone hopes to see.
Day 3: Lost Lake
Google never ceases to amaze me. When we got Whistler, the news on my phone changed to favor Whister news instead of Vancouver news. The news in Whister was Lost Lake was closed to protect newly mobile toads on their migration. We decided to take a walk over to see what was going on.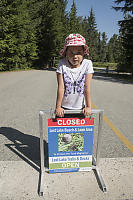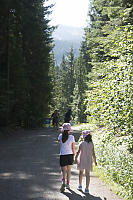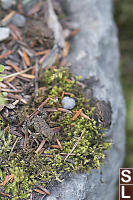 As you get close to the lake, you see volunteers telling people to get off their bikes and helping toads that have found themselves in harm's way. The toads are tiny and numerous - they are so small they are hard to spot, especially when mixed in with forest litter.



The kids enjoyed seeing the little toads. We walked out, got in the car and drove back to Vancouver. The small attractions on the way home - Brohm lake, Brandywine falls, Shannon falls were all completly crazy - long lines of cars trying to get into already full lots and cars parking on the highway. We were glad our weekend was mostly done.
---
Tags: cable car(3), rockhounding(3), ice cream(2), sign(2), bridge(1), hiking(1)
People: Nara(11), Claira(8), Helen(4), John(1)
From: John Harvey Photo > John's Overnight Page > Whistler August Long Weekend

Last Modified Sunday, September 8th, 2019 at 22:28:35 Edit
Copyright and Contact Information.