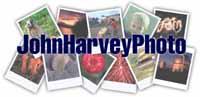 Kumamoto
Getting our Japan legs back.

---
The flight to Kumamoto just isn't going to be easy. From Vancouver we get on a 10 hour flight to Nariata airport in Tokyo, change airports (Haneda in Tokyo handles much of the domestic traffic) and then local flight for about an hour and half to Kumamoto. We left Vancouver at around noon and arrived in Kumamoto at 9:30pm - 5:30 am in Vancouver local time. With the time change it's quite challenging to sleep in the next morning - I was up by 7am. Thankfully Suizenji-koen Garden is open really early and I could walk there without needing directions.
Suizenji-koen Garden
On my previous trips to Japan, I brought a hip bag, a camera and two lenses - my favorite (the 105mm macro) and my most versitle (28-70mm f2.8 AFS). The night before I was trying to figure out what to bring and decided to not use the hip bag - bring a full sized backpack instead - this was a car trip after all. My backpack is safer (much more padding), and it gave me the space to bring my monster lens - a 80-200 f2.8 AFS). This morning in Suizenji-koen, I took about three pictures before I switched to the big lens, and boy was I glad I brought it.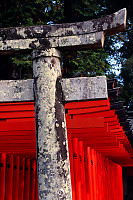 Cherry Blossom season varieties by up to week each year and seeing the cherry blossoms coming out in Vancouver, I was worried that cherry blossom season would be over in the south of Japan. The gardens put those fears to rest.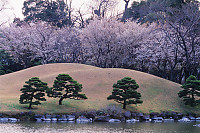 Shopping


On the other trips I've completed, the shopping was done throughout the trip with much of it done in Tokyo at the end. We didn't quite have that luxury on this trip. Japan continues to change as time goes on. Two surprising this trip - "Kiddyland" with playboy posters outside and fruit. Fruit has historically been of the gift variety - $40 and up. On this trip, we saw fruit costing as little as 100 yen a piece - very affordable for Japan.

There was also the usual difficult to get, want to have's. The big department stores had Studio Ghibli displays with stuffed animals (the big totoro would be about a thousand dollars Canadian) and the electronics stores had pretty much given up CRT's as if they cause cancer (perhaps Japan knows something we don't).

After a day of shopping Eric took us on a trolley ride out to a temple complex in the North Eastern part of town. I looked it up in my guide books and this area is just off the map but it is called "Honmyoji" in English. The complex has a nightly lantern festival and associated cultural events on the weekends in the month of March. The first thing we got roped into (they were presavive beckoners, but we weren't complaining) was a traditional tea ceremony. After we disposed of our 300 yen, we were seated to watch the woman undertake the traditional steps.

First cold fresh water is put in the stove heated pot on her left. Once the water is boiled, the hot water is put into a tea bowl. Green tea is added and then the mixture is whisked. Finally, after a bowl cleaning, it was served. Then bowls came out for the rest of us and we enjoyed.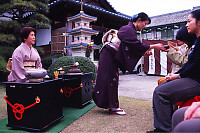 As the Sun dimmed, the lighting came into it's own. Most of the lighting was provided by small paper lanterns that lined the edges of the walks. These lanterns had apparently been made by local school children and varied from simple geometric patterns to complex scenes out of the latest anime.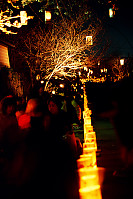 In some areas the lanterns were much more complex - often sections of bamboo with ovals cut from them and elaborate drawings on the paper that covered the holes.

Or free form. Several of the temples along the route had displays that combined the familiar with the bizarre.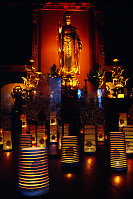 But these are real working temples and shrines. Traditional stone lanterns were lit up with candles and light bulbs and the temple entrances were sometimes dressed up. Incense burners were doing a steady job and coins were being thrown at a steady pace.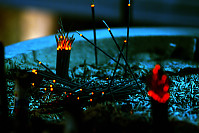 ---
Tags: Japan(26), lantern(10), garden(5), costume(4), temple(3), performance(3)
From: John Harvey Photo > Trips out of the Country > A Third Trip to Japan > Kumamoto


Hi John, I look through your blog and wow! I was amazed at all the places you visited. Absolutely gorgeous. My friend and I are planning a trip through Kyushu and have been doing some research on where to visit. That's how I stumbled upon your site and I'm so glad I did. We'd love to see of the places you've been to but we don't plan to drive. Maybe you don't have the answer to this question since you drove around but these places be reached via bus and/or train?

Loved, loved, loved your site!

Youa

Youa
Monday, March 5th, 2012 at 21:07:24

Trains run over much of Kyushu, but not everywhere we went. You can sometimes find tours with hostels or even a private mini-bus with driver rental. Having a car isn't as intimidating as you might think - I'm from Canada (steering wheel on the left side of the car) and Japan is right hand drive but it didn't take long to figure it out.

Thank you so much for sharing your experience. Thanks to your posts, my husband and I will be traveling to Japan in March next year and visiting most of the locations posted on your blog. We are soooooo excited!

Giselle
Monday, August 27th, 2012 at 18:09:26


Last Modified Tuesday, June 9th, 2009 at 00:54:38 Edit
Copyright and Contact Information.