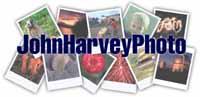 Manning Camping

The return of the fall camping trip.
---
Camping at Lightning Lakes


With 11 people going, it's hard to do a lot of things. We needed a total of 4 vehicles to accommodate different people needing to arrive and leave at different times. The night before we left, I went around and picked up gear to lighten the load on the other vehicles. I wound up with a very packed car! Helen, Mark and I were in the first vehicle out (arriving around noon) so we had to look out for our own lunch. After some preliminary setup, Sean and Catherine arrived and we went our first adventure.
As we drove up the Fraser valley, we noticed it wasn't particularly clear but that's not exceptional for the higher end of the valley. As we got around hope and started heading up into the pass, I noticed the haze actually got worse. Turns out the big forest fire burning just over the border with the US was sending much of it's smoke North and our valley was taking quite a bit of it. While it is hard on the nose and eyes, it made for a lovely soft fog look to much of the weekends photography. We went out for a hike around Flash lake.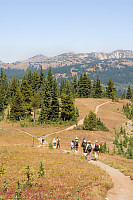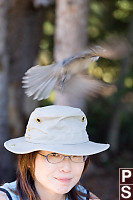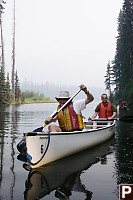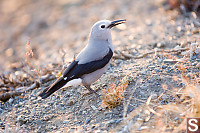 Nights in camp



The Othello Tunnels
---
Tags: bird(6), smoke(6), canoeing(5), camping(5), sunset(4), alpine(4)
People: Helen(7), Mark(7), Jesse(6), Eric(6), Jin(5), Catherine(4)
From: John Harvey Photo > John Harvey Photo - Camping > Manning Camping
From: John Harvey Photo > Manning Camping


Nice to read about your camping adventures. You also have some great photos as well as good "memory snaps" We were just up at Buckhorn camp this past weekend. Perhaps one day we'll run into each other! Cheers!


Last Modified Saturday, January 21st, 2023 at 23:43:59 Edit
Copyright and Contact Information.