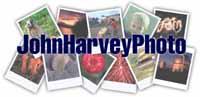 Miracle Beach Camping

First time at a Huge BC Parks Camp

---
Our kids seem to really enjoy camping. In the last few years we have taken them to
Rathtrevor
(
twice
), the
Shuswap Lake
[2016] and the
Okanagan Lake
[2018]. This year, when looking for a place, we wanted somewhere less likely to have forest fire smoke. Miracle beach checked a few additional check boxes - we have family in the valley and drive isn't that far. We were able to make reservations and booked our longest trip yet - 8 days in the same campsite!
| | |
| --- | --- |
| | We didn't book a reservation to Nanaimo because we appreciate the flexibility in case something comes up last minute. Unfortunately we just missed an 11am ferry so we were were on a 1pm ferry. That got us into the campsite late in the afternoon. Like last year, I made a video of the process of unpacking. The first thing to do is get the bikes off and the kids ride off exploring while we setup camp. |
By the time we have a tent setup, a vehicle unpacked and the kitchen brought out, it is dinner time. To make life easier, Helen brings a heat and eat meal from home so it's quick to get dinner done.
After dinner, the kids ride and we clean up. I setup a tarp because rain was in the forecast. Eventually it's time for bed. The kids really enjoy the glow sticks and the battery operated lanterns.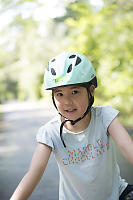 The kids wake up and their first question is "Can I go bike riding?" They get their clothes and helmets on and off they go. We have call them in with radios for breakfast. And then they go out and ride some more.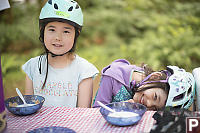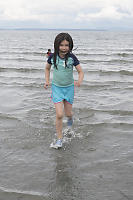 Miracle Beach has a few attractions - the huge sand beach being one of them. For us the tide went out in the afternoon so we went out to enjoy the warm shallow water. There is lots of beach life - crabs, sand dollars and sea weed to find on the beach.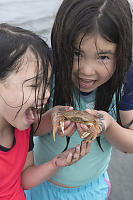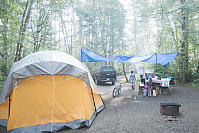 We have family in the Comox Valley and they were kind enough to come visit a few times.







Hiking at Mount Washington
Horseback Riding
Last year we went to the Sunshine coast and I found a stable that offered
pony rides for kids
. The kids loved it, but not a lot of places have miniature horses or ponies for young kids. The farm I found in Black Creek only had full sized horses so we got half hour training on how to ride before we went out on an escorted trail ride. The kids of course loved being on a horse without anyone else helping them.
Rock Hounding Trip to Hornby Island
This year I joined the Hasting Rockhounds - a local group that is part of the BC Lapidary society. There are organized "Rock Hounding" trips around BC each summer and it just so happened that an event (Vancouver Island Gemboree) happened the same weekend as we were camping in Comox. We signed up for a day trip and the kids were really excited about the fossil trip.

On Hornby Island is a beach called "Fossil Beach" which, not surprisingly has fossils. Some 80 millions of years ago, this was seafloor and lots of shells landed in the mud and became fossilized. Unfortunately, Hornby is two ferry rides away and on a beautiful Saturday morning, those ferries are busy. The ferry from Denman to Hornby is small so we had to a multiple sailing wait.

We got to the beach and got a bit of an orientation. The is basically loose rock over shale. Some of the loose rocks are actually concretions around fossils - you can pick them up, tap them on the end and discover what is inside! The most common find was Baculites - marine animals with a long conical shell. The shells preserve well so they are striking when you find them.


The shale itself will sometimes have lumps where the layers of rock bend around an encapsulated object. When you find such a lump, you use your hammer to break out the lump and then see what is inside. The leader found a kind of cuttlefish in the rock, but most people found shells from shellfish. We stayed for a few hours until the kids were tired and then headed home with our new found treasures!
What is good after spending a hot day on the beach? Go out for Ice Cream! We went to Blue Spruce Ice Cream to cool down and get our blood sugar sky high again.

There is one last big attraction at Miracle Beach - it's surprisingly dark at night! The park is mid way between Comox and Campbell River so you get a decently dark night sky. I stayed up late night (the moon rose early on earlier days) and watched the galaxy glow in the night sky.



Another great year!

---
Tags: camping(7), horse(5), gulf island(5), riding(4), rockhounding(4), beach(3)
People: Claira(13), Nara(13), Helen(6), Arabella(4), Lexi May(4), Philip(1)
From: John Harvey Photo > John Harvey Photo - Camping > Miracle Beach Camping

Last Modified Sunday, January 22nd, 2023 at 00:05:02 Edit
Copyright and Contact Information.