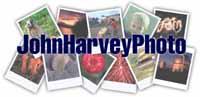 Miracle Beach Camping
First time at a Huge BC Parks Camp

---
Our kids seem to really enjoy camping. In the last few years we have taken them to Rathtrevor (twice), the Shuswap and the Okanagan. This year, when looking for a place we wanted somewhere less likely to forest fire smoke. Miracle beach checked a few additional check boxes - we have family in the valley and drive isn't that far. Finally, we were able to make reservations and booked our longest trip yet - 8 days in the same campsite!

| | |
| --- | --- |
| | We didn't book a reservation to Nanaimo because we appreciate the flexibility in case something comes up last minute. Unfortunatly we just missed an 11am ferry so we were were on a 1pm ferry. That got us into the campsite late in the afternoon. Like last year, I made a video of the process of unpacking. The first thing to do is get the bikes off and the kids ride off exploring while we setup camp. |
To make life easier, Helen brings a heat and eat meal from home so it's quick to get dinner done.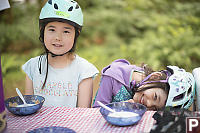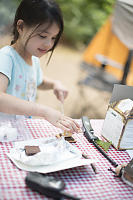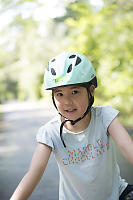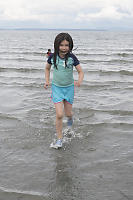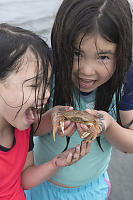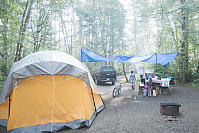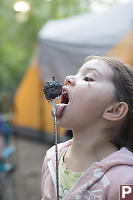 Hiking at Mount Washington
Horseback Riding
Last year we went to the Sunshine coast and I found a stable that offered
pony rides for kids
. The kids loved it, but not a lot of places have miniature horses or ponies for young kids. The farm I found in Black Creek only had full sized horses so we got half hour training on how to ride before we went out on an escorted trail ride. The kids of course loved being on a horse without anyone else helping them.
Rock Hounding Trip to Hornby Island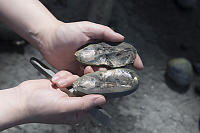 ---
Tags: camping(7), horse(5), gulf island(5), riding(4), rockhounding(4), beach(3)
People: Claira(8), Nara(8), Lexi May(4), Helen(4), Arabella(2), Jessica(1)
From: John Harvey Photo > John Harvey Photo - Camping > Miracle Beach Camping

Last Modified Sunday, August 25th, 2019 at 09:25:55 Edit
Copyright and Contact Information.