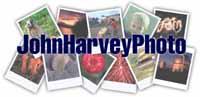 Sapa And Bac Ha

North of Hanoi

---

Topas EcoLodge
The Ecolodge was our first nights stay. The EcoLodge is close to Sapa but in a world all it's own. Given it's name, it tries to minimize it's footprint, both ecologically and socially. It was actually quite a nice place to stay.




On our day there, we decided to walk down the town village at the bottom of the hill. We walked through fields and houses on the way down and saw life and agriculture as it is.


Can Cau Market

I really like markets. We picked tour that had two markets in two day. Our first visit was the market in Can Cau. Can Cau is a small town in a valley that has a market on Saturday morning. The drive from Sapa was long and we didn't arrive until after most of the market was over.



The market has three large areas - the good market, a hot food market and a livestock market. The goods market was dominated by the flower Hmong women known for their extraordinarily colourful costumes. Further down the hill, the hot food market was dominated by smoke from all the small fires that are used to keep the food hot.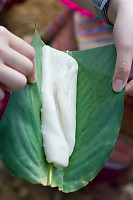 We sampled a pounded rice pancake. Hot, sticky and for about twelve cents, it really hit the spot.
Bac Ha Village

After the Can Cau Market we drove back to Bac Ha, had lunch and then went for a walk in one of the local villages. This village was a short drive from town but it seemed like a world all on it's own. We stopped by a local school and found quite a nice classroom, but no kids - at this age, the kids are only in school for half a day. We found kids playing (and sometimes working) in fields around the village.


My personal favorite was boys with their water buffalos. These animals are huge and they do have minds of their own, yet these boys will lead their buffalos across fields, sometimes using them as rides, sometimes using them as playthings.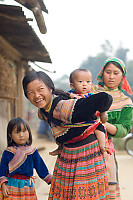 After we visited the fields, we walked into the village. Unlike the markets, the people here are less shy and more open to having their photos taken.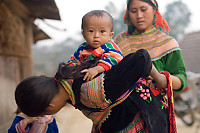 Market in Bac Ha
The market in Bac Ha is really part of town. The streets are lined with sellers and there is a section of town that becomes market stalls for one day a week.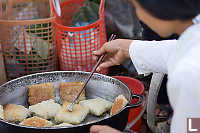 These markets are busy and tourists can be missed in the crowds making it easier to take photos. We went earlier in the day and I think people were still more optimistic about their sales or aren't tired from a day of selling. The markets are quite busy and you have to keep aware of the area around you because a cow or motorcycle may be coming up the path behind you.


Being much larger than Can Cau (maybe 4 times larger) you see much of the same thing and several new things. I saw fish for sale (considering how far we are from the ocean, that surprised me). There were lots of Chinese manufactured goods - clothes, shoes and some housewares.



Always keen to try food, this time we tried a "donut" - a rice ball with sweet beans inside. They are deep fried and I think they would do very well at the Richmond night market.


Some other Village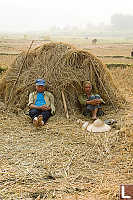 On the way back to Lao Cai we stopped at a river and took a boat up to a show village. It was rice harvesting season and this village hard large fields that were in the process of being harvested. The kids were out having fun, but work was getting done.

---
Tags: Vietnam(40), market(12), portrait(8), farm(4), street food(4), field(3)
From: John Harvey Photo > Trips out of the Country > Vietnam > Sapa And Bac Ha

Last Modified Saturday, January 21st, 2023 at 23:45:53 Edit
Copyright and Contact Information.