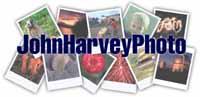 February 2020
Lots of things to do.

---
Lanterns in Jack Poole Plaza
The format of this lantern show was new to me - these are printed fabric lanterns (each lantern design is printed twice) in a solid metal frame. These lanterns are setup with a wonderful backdrop and we got a great blue sky to contrast with the red colours. The kids brough their puppets from Chinese new years.
Walking to School in the Snow
Vancouver Boatshow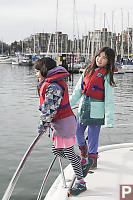 Nara had a birthday party in the afternoon so we go her to her pickup and Claira and I spent more time looking at boats. There are a wide variety of boats on the floor - from dinghys to speedboats, fishing trawlers to weekenders. We tried out a lot!
Vancouver Aquarium
Illuminate Yaletown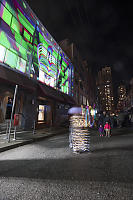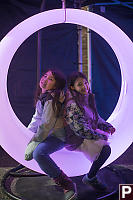 Birding Iona
Nature Vancouver has field trips most weekend of the year. A Saturday morning birding walk is a great way to start a weekend - time outside looking for interesting things and hearing stores about wildlife. This Saturday turned out to be beautiful (but cold) so I went out for a walk. Both kids were invited, but neither of them wanted to go with me.
---
Tags: Yaletown(6), Iona Beach Regional Park(6), lights(4), Vancouver Boat Show(4), performance(3), night(3)
People: Nara(13), Claira(10), James(1), Marcus(1), Helen(1)
From: John Harvey Photo > Blogs for 2022 to 2005 > February 2020

Last Modified Monday, April 25th, 2022 at 23:23:09 Edit
Copyright and Contact Information.