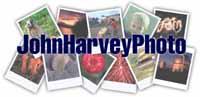 June 2009
Happy 40th Andrea!

---
The "Incident" next door
Tojo's is our next door neighbor. I've never been (paying so much for vegetarian sushi is pretty stupid), but I'm happy to have them as a neighbor. One evening, we heard an alarm next door. Turns out they had some sort of "emergency" incident (they closed for two days). I got out my 85mm Tilt Shift lens and made some "models".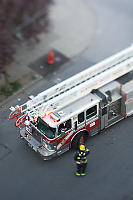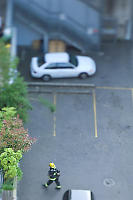 Happy Birthday Andrea!
Numerically, this year was a significant birthday for Andrea. She completely outdid herself by organizing a pig roast as a birthday party. There are two ways to do the pig roast - either have a catering company do it while you watch or the more hands on approach of doing it yourself. Andrea picked a third option - invite your friends over early, provide beer and hope a process emerges.



The process started much earlier in the day when Mike and team went out to get the BBQ and the pig. This is roughly a 20 pound pig, some of which is made up by putting more pig in the pig. The pig had to be sewn up and the BBQ started. The BBQ is really an open tray on which your put charcoal. Sean measured the cooking temperature by how long you could hold your hand at cooking height (maybe 10 seconds). Let the pig spin and wait until it reads 165 degrees. What could be easier?


First challenge was making all of that charcoal. Getting large quantities of charcoal started is actually a sport but we weren't willing to invest in liquid oxygen. Earlier attempts involved starter cubes and a piece of cardboard to fan the flames. We got professional when the hair dryer came out and dramatically accelerated the process. Production hit high gear when we used a gas barbecue to light even larger batches.



Coals handled, the next challenge is basting. There are two types - one is the external brush on. This has the added benefit of wipe off whatever ash may have blown up. The second style is to inject baste in the cavities of the pig. Andrea demonstrates: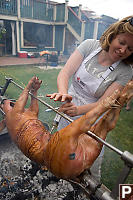 And the rest of trick is waiting. Get some drinks and chips and enjoy time in the back yard.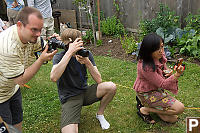 Again, this process can be improved upon. We have two babies in the group now and they both easily become the center of conversation. The odd demonstration of skills (such as assisted walking) makes for crowd pleasing effect.

The online estimate was an hour for every ten pounds of pig. This model probably breaks down for small pigs like ours. After we were getting multiple thermometer readings above 160 (roughly 4 hours of cooking time), we took the pig off the BBQ, tented it in tinfoil and let it reabsorb it's juices for about 25 minutes. After that, we started carving. Carving has about three steps - dismemberment, deskinning and cutting to serving size. By breaking the process into multiple stages you can have several people work on the project at once. The skin is quite tough so be sure you have a really sharp knife to cut it. Ideally you want to remove the skin and the layer of fat underneath it so you can broil it in the oven to make crackling. You also want to be careful about the meat - we did find some meat that wasn't cooked. Ideally it should be set aside and finished off in the oven or microwave.




Sean and Catherine brought some fancy Thomas Haas cakes. Everyone had an excellent time. Thanks Andrea for organizing and providing so much entertainment!


---
Tags: barbeque(7), cooking(6), sparks(3), miniature effect(2), photographer(1)
People: Andrea(3), Jeremy(3), Catherine(2), David(2), Sean(2), Noelle(2)
From: John Harvey Photo > Blogs for 2020 to 2005 > June 2009

Last Modified Thursday, August 13th, 2009 at 22:21:00 Edit
Copyright and Contact Information.