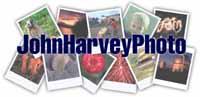 August 2007
Summer sure is fine

---
A Brief Trip to Ontario
Funerals are always a sad time to travel. Sadly, my uncle passed away. Helen hadn't yet been back to Ontario so I was quite sad that this was her introduction trip to the family back east. We flew into Toronto just before the memorial service and then traveled up to the family property in Parry Sound. It was nice to see family.
My cousin in Toronto (Peter's son) has purchased some lake front property so we went for a walk down to the lake front to take a look around (and a few pictures). The kids (
who were in my last trip out
) have of course continued to grow and remind you just how old you are getting. It's nice to see them as young adults though - they have good stories to tell.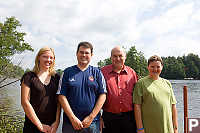 Thankfully, it's not all sad times. Being cottage country, there is lots you can do to have fun. Kyle got out an ATV and showed Helen how to ride. She looks pretty good on the big machine!



We did some visiting as well. My Grandmother is burried up here and my Grandfather and uncle have had their ashes spread up here. It was nice to visit their sites and remember them.

There was some time for some new things (at least to me). We went to the lookout tower and took in the lay of the land.



Thanks to our local guides for their patience!
A walk in Pacific Spirit Regional Park
Earlier in the year Helen and I and some family went on a
garden tour of Vancouver
. One of the houses we visited was very close to Pacific Spirit Regional Park and there was an entrance I'd never noticed before. I had some spare time on Saturday morning so I dedicded to go for a walk and see what there was to see.
I quite like ferns. It's a bit late in the season so they can be pretty beaten up (especially near the edge of the trail) but every once in a while you find a nice bit of ferns. Ferns are one of those classice black and white compositions but I'm not (yet) keen on digital Black and White so for now it's colour.


Mushrooms were also out. The large shelf funguses were quite striking with their bright orange colour. The softer chicken mushrooms were also quite nice to see. The little gem-studded puffballs could easily be missed as stones in the path. Considering these organisms work well without the sun, it's suprising the ammount of visual difference.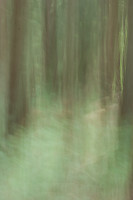 Recently, I've been working on a
page about photographing trees
. Ironically, trees and forests are some of my favorite things but I have a terrible time taking a good photo of one. I've seen this motion blur thing done before, but I wanted to a take another stab at it. Yes, it's a small bit of forest, but I'm not sure it's compelling.
---
Tags: Pacific Spirit Regional Park(7), fern(4), mushroom(3), shallow depth of field(2), flare(1), panorama(1)
People: Kyle(6), Caitlin(4), Helen(2), Lloyd(2), John(1)
From: John Harvey Photo > Blogs for 2020 to 2005 > August 2007

Last Modified Saturday, August 8th, 2009 at 22:18:50 Edit
Copyright and Contact Information.