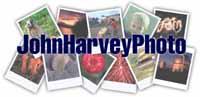 Surfing

When in Hawaii

---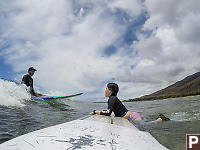 When you go into a restaurant in Canada, they often have hockey, football or baseball on the TV's. In Hawaii, they had surfing competitions on the big TV's. My dad kindly gave the kids money for Surf lesson but we didn't really have a plan on how to spend it before we arrived. We spoke with Dean and Meredith and they recommended Enzo at
Swell Maui Surf Lessons
so we booked a pair of back to back lessons and drove out to Ukumehame Beach Park for our morning classes.

Both kids got dry land training (how to stand up) and then Enzo headed out with Claira to get her going. He has a GoPro on a clamp he attaches to the front of the board which captures the kids successes and splashes.



And sure enough Claira was able to stand up and ride a wave!


Next up was Nara. Same idea - paddle out past the surf area, line yourself up and catch a wave in. Enzo provided all of the intelligence - he could spot the wave, got Nara going in the right direction and told her when to stand up.

Similar to Claira, Nara was able to stand up and ride the wave in.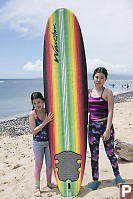 Us parents stayed on shore. I brought out the birding lens and recorded video of the kids catching waves. That GoPro turned out to be handy - Enzo would press the record button (one shot a second) just before the kids got started. This was my queue to start recording. I did a poor job of focusing these videos (it's a skill I need to learn) so please excuse the endings.


It's hard to understate how much Enzo enabled a good day. There is a lot of skill in timing the go (especially on a small wave) and his timing and nudges enabled the kids to succeed. Claira and Nara with both so tired (or lazy) that Enzo wound up paddling them into shore.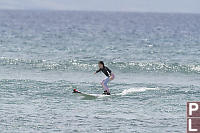 ---
Tags: Hawaii(12), surfing(12), water sports(12)
People: Claira(7), Nara(7)
From: John Harvey Photo > Blogs for 2023 to 2005 > Maui > Surfing
From: John Harvey Photo > Trips out of the Country > Maui > Surfing

Last Modified Sunday, January 22nd, 2023 at 00:12:10 Edit
Copyright and Contact Information.