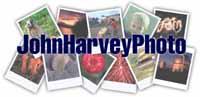 Learn Photography
---
While film is expensive, digital a little cheaper, the real cost of photography is the great shots you left behind or lament when they aren't up to what you expected. Nothing is a sure thing, but some of the pages might help increase your yield, or make your photos look more like mine.


Learn Composition



There are no rules that will guarantee a good photograph, but there are a few principals that might act as guides or anti-guides to composition


Learn Flowers



Flowers is something that I just enjoy taking photos of. While many of the principals involved in traditional composition or portrait composition apply to flower photography, sometimes just seeing examples can inspire.


Learn People Photography



The true bread and butter of photography, there is a huge number of variations available.


Learn Low Light Photography



Requiring a bit of technical know how, light really takes on new properties when there isn't much of it.


Learn Water Photography



It's one of the requirements of life and often a focal point of landscape photography.


Giving Up



Rules don't define the edges of photography. Sometimes photos that are technically poor making striking images, but there are few guidelines to help.


Markets



I really enjoy markets but getting a good photos at markets isn't obvious. There are a few things to keep in mind when you are visiting.


Tide Pools



Tide pool beaches are some of my favorite places. I've noticed a few things to that make positive images.


To Photograph Trees



I'm no expert at taking photos of trees, but I'm learning.

---
From: John Harvey Photo > Learn Photography


Photography is an excellent hobby for creative minded people.

Ravi shankar K S
Tuesday, July 10th, 2007 at 05:42:09


Last Modified Monday, December 29th, 2008 at 10:09:23 Edit
Copyright and Contact Information.